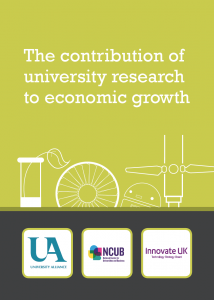 The UK's rich and diverse ecosystem of world-leading research and innovation is a key driver of growth and productivity. At the heart of this, and underpinning the Industrial Strategy, sits a world class research base.
University Alliance has collaborated with the National Centre for Universities and Business (NCUB) and Innovate UK on a joint booklet looking at the vital role university research plays in building our economic success.
The HE sector generated £73 billion. Alliance universities have an impact of £10 billion.

The UK ranks as the 3rd most innovative country in the world and 2nd for Business-University collaboration.

£376 million generated from graduate start-ups. Alliance universities generated 44% of this.
University Alliance, NCUB and Innovate UK share a commitment to ensuring that the research base continues to contribute to economic growth by driving profits, attracting inward investment and creating jobs across the country. This booklet shows how these efforts are succeeding, and how future policy could add even more value to the research and innovation system.