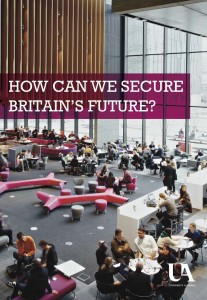 For the past couple of weeks politicians on both sides of the House have been gathering for their annual party conferences with their eye on the prize – the national election next May.  The conferences provided University Alliance with an opportunity to set out what we think politicians and their advisers should keep firmly in mind over the next seven months – and beyond – to secure Britain's future.
Our higher education sector plays a crucial role in Britain. It contributes huge amounts to our economic and societal well-being. It is securing Britain's ability to compete in a dynamic and fast-changing world. So it is important that policy and public investment decisions create the right environment for universities to thrive.
Alliance universities are critical to the future growth of the economy. They are leaders in industry links, producing work-ready graduates and creating a research rich, entrepreneurial environment. They generate a diverse learning experience to give students the knowledge, skills and entrepreneurship they need to compete in a global employment market. Their research-rich environment is a key part of UK innovation, driving business growth.
A strong university sector will deliver a strong future. To help deliver this, we have set out three key priorities for politicians and policy advisers.
Priority 1 – open competition
We operate a highly competitive system in the UK, which has been proven to maximise the impact of limited public investment. Public funding should continue to follow excellence where it exists to drive innovation and secure the future success of our universities.  To achieve economic prosperity, research and innovation activities need sufficient and sustained funding.
We are calling for long-term certainty on investment and increases in real terms to the science budget to bring the UK's investment in line with international R&D averages.
Priority 2 – destination of choice
We need to bring back the two-year post-study work visa for all graduates from UK universities and remove international students from the net migration target. This is essential if the UK is to remain a destination of choice for international students and is able to grow its share in an increasingly global market.
Priority 3 – investing in the future
We need smarter, sustainable funding for UK Higher Education. We need to ensure investment is strategic to prevent cuts to student places or underinvestment in high quality programmes. Our higher education loan programme (HELP) proposal offers a possible solution to sustainable funding – a new student loan model that can help every student cover the cost of studying.
Social mobility through higher education should remain a priority – as both a social imperative but also to ensure that the UK is maximising its economic potential. We need the government to commit funding for student opportunity and retention as well as objective, informed, age-relevant advice and guidance to encourage anyone who is able and aspiring to go to university to find success.
Investing in Britain's knowledge economy will drive sustainable growth.
If you would like to know more about what we are doing in the run up to the election to help secure Britain's future, don't hesitate to contact us.