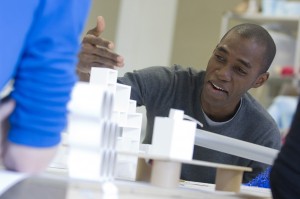 Can you teach someone to be an entrepreneur? At the OECD What Works Conference, hosted by Aalto University last week in Helsinki, the value of the rich environment provided by universities focussing on entrepreneurship brought this issue alive.  As ever with universities it isn't just about teaching.
To my mind the intrinsic value of a university are all those other things that make up a student's experience, some measurable, some not.  It is about each student forging their own path to create an experience that is unique to them.  At Aalto University's Design Factory students co-exist alongside academics and industry partners; the whole ethos is about openness to ideas wherever they come from.  For example, following a trip to visit the Massachusetts Institute of Technology (MIT), Aalto students had the idea to found an annual conference that would bring together start-up and investors.  In the past three years, Slush has grown from a local, 300-person event to become one of the leading tech and start-up events in the world, reaching 7000 attendees from 68 countries in 2013.
The role of universities represented at the conference is one wholly familiar to Alliance universities – they provide an environment to create communities which have become the lifeblood for a new breed of start-up.  Within these universities an idea can quickly be tested and developed into a business.  These entrepreneurial hubs are providing financial support, business knowhow and engendering creativity through a mix of disciplines, academia and business, along with a smattering of visiting international collaborators.
And something seems to be working.  Alliance graduates contribute nearly 50% to the total revenue of all UK graduate start-companies, employing over 6,000 FTEs.  Having visited a number of these hubs now, both at Aalto and in Alliance universities, I can tell you that they are exciting places to be.  They are places with few boundaries as to what might be possible.  The other thing that is noticeable is the lack of hierarchy; academics, students and businesses alike are all there to learn from each other.
As Hinesh Mistry, a graduate from the University of Huddersfield and founder of THAT Creative, describes: "We had design skills and knew a bit about starting up from our business lectures. But we couldn't have figured out how to set up our business properly without help. That's where the Activ8 scheme run by the Business Mine at the University came in. We went to one of their talks and met Kelly and Phil (two of Activ8's Start-ups advisers) who suggested that we put our ideas into a written proposal. So we did and ended up pitching successfully to an expert panel who accepted us onto the scheme.
"Activ8 has been brilliant. They showed us how to write a business plan; how to form a partnership – with all the legal advice to make sure it was set up properly; they gave us office space, networking opportunities with other start-ups and some initial funding. It's such a wealth of knowledge and experience to tap into. In DIY they say you should know a plumber, an electrician and a builder; if you are starting up a business, I say you should know a lawyer, an accountant and a business adviser. Even better if you can get all of them free through your university."
Closing the conference, our host Professor Seppo Laukkanen, Associate Vice President at Aalto, reflected that "Entrepreneurship is all about communities."
I would go further and say that it is about making connections across those communities between people and ideas.  What was really exciting about my experience in Finland was the idea that if these university-based entrepreneurial hubs (which are growing in number) were to connect then surely their value would only increase?  And ultimately, isn't making these connections what universities are all about?