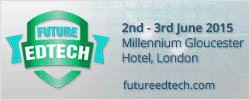 Location: Millennium Gloucester Hotel, London
Future EdTech 2015 is neither another conference or trade show…it's your opportunity to join the conversation.
50+ global thought-leaders and innovators sharing their latest projects and 250+ of your peers in attendance will provide you with the expertise at the heart of the new education economy through carefully curated sessions, interactive formats and plenty of networking.
Don't let external pressure force your hand. With budget constraints still a challenge, getting the right insight to make the right strategic choices and maximise the investment in the right solutions for your institution is the key to sustainable future success.  Take a whirlwind tour of pan-European HE projects and innovation at Future EdTech 2015, gain the insight you need and shape the conversation.
Registration is complimentary for Universities and Higher Education Institutions – ensure you secure your place today!