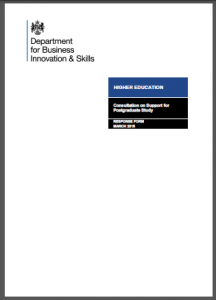 University Alliance has submitted a response to the Department for Business, Innovation and Skills' consultation on support for postgraduate study.
The Chancellor of the Exchequer George Osborne announced in the Autumn Statement 2014 that the Government would introduce income-contingent loans for students under 30 who want to enrol on a postgraduate taught masters in any subject.
These loans, of up to £10,000, are planned to be available from 2016-17. He later announced in the Budget, plans for a £25,000 loan for doctoral students.
Postgraduate study is vital to ensure ​Britain develop​s​ and grow​s​ global talent. We are looking forward to these loans being made available for all post-graduate students – a sure way to secure the UK's future competitiveness. However, the government still need to put the higher education funding system on a more sustainable footing.
We commented on this announcement earlier this year. See our response here.