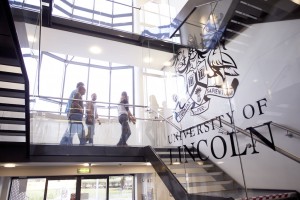 University of Lincoln – strategic collaboration with employers to develop new Schools in STEM subjects
The University of Lincoln developed new Schools in the STEM fields of Engineering, Pharmacy, Chemistry, and Mathematics and Physics. They use a 'co-employer led School' model designed to meet the recruitment needs of different industrial sectors and address the shortage of higher-level skills in the East Midlands. The model combines public funding with employer investment in physical infrastructure. It also engages employers in developing and managing the new Schools through specialist advice, co-creating industry-focused curriculum and providing funding for scholarships and bursaries. The Schools develop strong links with the local and regional economy, particularly with local businesses, who gain access to research facilities, knowledge transfer opportunities and staff expertise.
Origins and rationale
Lincoln places deep employer engagement at the heart of its activities, which supports its role as an 'anchor' institution bring together education, knowledge creation and entrepreneurial activity from across the region. Strong employer collaboration underpin the Schools.
The University developed existing links with Siemens to create the first new School of Engineering in the UK for 20 years which opened in 2010. This was supported by key stakeholders such as HEFCE, the Regional Development Agency and the European Commission. Its aim was to address the urgent need to train more engineers and avoid businesses such as Siemens and their supply chains moving out of the area. Lincoln academics and Siemens training staff are co-located at the School, sharing equipment and facilities.
Many pharmacies in the region faced difficulties recruiting pharmacists. A new School of Pharmacy was opened in 2012 by the University, working in partnership with the regional Co-operative Society to increase work-ready trained pharmacists. The School is the anchor tenant on Lincoln's Science and Innovation Park, a joint venture between the two organisations. The Co-op invests in labs and teaching spaces, hosts student placements and contributes to teaching.
How does it operate in practice?
The model promotes close collaboration with employers with regular communication and face-to-face meetings and discussions on issues such as education, research and knowledge transfer. Industrial liaison is also supported by a sophisticated customer relationship management system and specialist staff across the institution. The university also uses the Local Enterprise Partnership's labour market analysis to help shape its STEM provision.
Buildings and facilities – co-funded through bidding for external funding and employer investment – are accessible to students, employers and researcher. There is a strong emphasis on gaining as much industry experience and interaction as possible. This is built into the curriculum from an early stage, for example, networking in shared spaces, industrial placements and group-based research and development projects to solve real challenges faced by local businesses.
What works well and why?
It was important that the new Schools were built on existing links with local employers such as Siemens and the Co-op. This helped to leverage external funding (e.g. from HEFCE's Catalyst fund), which was used for infrastructure and professional specialists to liaise with industry. It was also essential to build and maintain open communication channels with employers, so that when a business need arises the university is viewed as a natural partner. Senior staff are well-networked with key local stakeholders through attending events and local committee work.
An employer co-creation group ensures the STEM curriculum is co-developed with employers, integrates students' exposure to the workplace and is flexible to meet changing sector needs. For example, locating Siemens training staff and Lincoln academics within the Engineering hub increases the University's access to employers, including SMEs and the public sector. This model – being built from scratch – required all partners to take a long-term view on commitment, impact and benefits.
The co-employer led school model has helped the University to increase its student recruitment and expand its STEM provision (STEM now represents 30% of provision) – helping to meet regional skills demand. The work-integrated model used in the new Schools has provided local businesses highly employable Lincoln graduates who have a growing reputation for being industry aware, entrepreneurial and courageous.
What were/are the key challenges and how were they addressed?
Close liaison from employers and the recruitment of enthusiastic staff is vital to overcoming the challenge of building an industry-relevant and high quality curriculum from scratch. A balance is also needed between creating the necessary standardised policies and process and retaining an entrepreneurial spirit as new initiatives develop and grow. Lincoln now prides itself on only taking three months to accredit a new programme.
Different STEM sectors have different needs. The Engineering School's relationship with just one employer has different needs from relationships that involve many employers, such as with the Schools of Chemistry and Pharmacy. Longer term objectives such as reputation building and research collaboration also take time and links need to be allowed to develop at their own place. It can also be a challenge to embed relationships and move beyond reliance on key individuals' enthusiasm and engagement. Therefore, it is important to engage academic and professional staff at all levels and ensure that necessary resources to build and nurture relationships are in place.
Future plans and developments
The University plans to increase its range of interactions with local employers in the local region and beyond. It plans to develop more research and knowledge transfer activities with employers – positioning Lincoln as a hub for STEM education and knowledge creation.
In 2015, the School of Mathematics and Physics opened, using the same workplace-orientated approach. Lincoln is also expanding its STEM offer by investing in new facilities in Engineering and Life Sciences and developing areas such as biological sciences and agrifood technology. This in turn offers potential for further work-based learning and CPD courses within these fields.
Read the full report here.