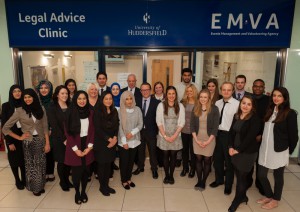 The Masters of Law and Practice (MLP) degree at the University of Huddersfield Law School integrates a traditional three-year law degree (LLB) and one-year Legal Practice Course (LPC) into a four-year course that enables graduates to proceed directly to a training contract with a legal firm.
All teaching is based on independent, student-centred learning with an emphasis on practical tasks and group work, preparing students for the realities of working life.
As part of the course students are exposed to academic law, as well as being required to prove their competency in professional skills such as legal writing and drafting, advocacy, client interviewing and practical legal research. They are also required to study three vocational electives, all tailored to the practical realities of solicitors' practice.
The course provides students with networking, mentoring and training opportunities via regional and internationally renowned legal firms and is accredited by the Solicitors Regulation Authority.
Huddersfield's pioneering Legal Advice Clinic also allows students to provide real advice to real people, helping them to develop their own practical, reflective and autonomous skills.
All teaching staff are fellows of the Higher Education Academy, which recognises excellence in teaching, as well as all having (at least) Masters-level academic qualifications. All teaching staff on the LPC course are also qualified solicitors or barristers, bringing first-hand experience from practice into the classroom.
Firms involved in the Partners in Law scheme include Pinsent Masons, DLA Piper, Walker Morris, Eversheds, Hammonds, Chadwick Lawrence, Armitage Sykes, Ramsdens Solicitors, Eaton Smith, Ridley & Hall, Switalskis and Wilkinson Woodward and Kirklees Council Legal Services. Some of these firms do not advertise vacancies for junior positions but ask the University to shortlist top students and recommend them directly for interview. Several students have obtained positions this way.   In 2015 the Legal Advice Clinic won the LawWorks and Attorney General Awards in the category of Best Contribution to pro bono work by a team of UK students.