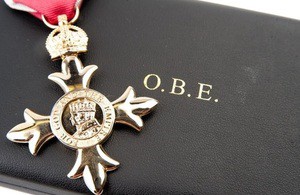 Staff at Alliance universities have been recognised for exceptional achievement and service in the annual New Year's Honours List.
Among them are three academics from UWE Bristol:
Professor Nichola Rumsey, Co-Director of the Centre for Appearance Research (CAR) at UWE Bristol, has been awarded an OBE for services to people affected by an altered appearance. Nichola, Professor of Appearance Research at the university, founded CAR in 1992, the world's largest research group of its kind focused on appearance and body image, which has made a difference to the lives of millions of people living with conditions, marks and scars affecting their appearance, including through collaborative work with charities such as Changing Faces.
Claire Doherty, founder Director of Situations, and research fellow at UWE Bristol, was awarded an MBE for services to the arts. Since 2002, Claire has nurtured and developed Situations from its genesis within UWE Bristol to become one of the country's foremost producers of the arts outside conventional venues. The organisation is dedicated to creating and commissioning compelling and imaginative new forms of public art, guided by a firm belief in the capacity for the arts to change, enhance and inform the way we think about, and interact, with the world around us.
Professor Ron Ritchie has been awarded an OBE for his services to education. Prof Ritchie, who had a 40-year career in teaching, has also carried out a number of roles in higher education, initially at Bath Spa University and, since 2001, at UWE Bristol, where he was dean of the then Faculty of Education from 2003-10. He retired from UWE in August of this year having served as Pro Vice-Chancellor with a portfolio covering partnerships, diversity and civic engagement.
He led UWE's partnership work with academies and trust schools and is currently the chairman of the Cabot Learning Federation, a multi-academy trust sponsored by UWE and Rolls Royce responsible for 13 local schools. He was a founder member, director and past chair of Trust in Learning Academies which is co-sponsored by UWE and City of Bristol College and is responsible for another five local schools, including Orchard School Bristol, where Ron started his teaching career.
Colin Blair, Director of Estates and Facilities at the University of Huddersfield has been awarded an MBE in recognition of his central role in creating one of the UK's highest-quality campuses. Mr Blair has presided over an ambitious £100m building schedule with a new £200m investment phase is currently underway. Projects have included a new Creative Arts Building, Business School, the Buckley Innovation Centre and the £22.5m Student Central development, while the University has successfully maintained a unique portfolio of listed buildings – one of the highest proportions of any higher education institution in the UK.
Terry Neville, who was awarded a fellowship from the University of Hertfordshire in 2013 in recognition of his outstanding work to the development of the university, has received an OBE for services to higher education. During his 19-year career at Hertfordshire he oversaw a £120 million campus expansion, before being appointed Chief Operating Officer at the University of Northampton in 2011.
William Turner, Head of Governance and Legal Services, Nottingham Trent University was awarded an MBE for his services to education and the community, while Michael Judge also received an MBE for service to Coventry University, charity and the community in Dunchurch, Warwickshire.
Many congratulations to all those whose contributions have been recognised.