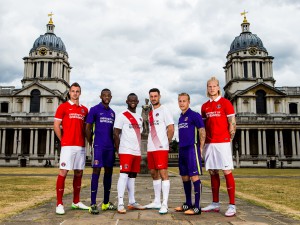 Greenwich continually strives to make a strong impact on the communities it serves. The innovative partnership between the university and Charlton Athletic Football Club, launched in 2014, is at the heart of this mission to create significant and lasting relationships with local people and organisations.
The two partners see mutual benefits from this close association: they share expertise and work closely together in areas of education and research, employment, and community engagement and outreach.
Anne Poulson, the University of Greenwich's Chief Operating Officer, says the partnership is an exciting venture. "Both institutions have long-standing commitments to serving our local community, and it made a great deal of sense for us to come together, combining resources to work more closely with, for instance, schools, hospitals and community groups," she says.
"Sport plays a really important role at the university, too. We run degree programmes in sports science, sports event management, sports marketing and sports psychology, and we train PE teachers, so there is plenty of scope here to enrich our teaching and research, and for both sides to learn from each other's expertise."
The university's students are among those to benefit from the tie-in, having access to some of the state-of-the-art sports, exercise and training facilities at Charlton's training ground, which sits next to the university's Avery Hill Campus. Second-year BSc Sports Science students have been selected to assist with coaching sessions for the club's under-nines and under-tens: these eight-week placements have been declared a success by both parties, and are likely to increase in number and frequency in future years.
The partnership also embraces Charlton's Community Trust, whose work with community hospitals, the local authority and other agencies allows the university to further enhance its educational work training teachers, nurses, midwives and social workers.
Greenwich students of all disciplines can get involved with the club in a variety of other ways, including internships, fundraising roles and work placements. Students have been filming matches and assisting match-day staff, and have also helped to create a special video promoting the club's 'half-season ticket'. Others have been employed on matchdays in catering, stewarding and programme-selling roles. Art and photography students have been undertaking projects to create adverts and posters for the club.
To add to the club's community ethos, some of its home fixtures have been dubbed 'ClubUoG matches', for which students and staff have been able to purchase discounted match tickets, enjoy free refreshments and sit together in a specially designated 'fanzone' within Charlton's stadium. Further offers may be rolled out for university alumni.
Other community projects include an organised walk by Charlton and the Community Trust to raise funds and awareness for its Down's Syndrome project, which is being supported by the university.
These tie-ups are contributing to Greenwich's new Sports, Health & Wellbeing Strategy. Building on links with local communities, the overall aim is to support higher levels of participation in sport and physical activity. Greenwich has also launched a strategic partnership with Blackheath Rugby Club, which also aims to promote strong links between the university and its wider communities.