Staff and students at Teesside University are able to access a range of activities to encourage them to improve their health and fitness during the annual Festival of Wellbeing.
Held throughout September and October, the Festival offers the opportunity to try out a wide range of sports and activities, from rock-climbing and Tai Chi, to yoga and table tennis.
All the sessions are free and led by experienced instructors and are designed to give staff and students of all abilities the chance to get involved.
In addition to the physical activities, the last Festival of Wellbeing in 2015 also included a mocktails dry bar, serving non-alcoholic cocktails, a farmers' market and a public lecture titled 'Boozed up and Busted', which provided an informative look at student drinking behaviour. There were also walking challenges and sports club taster sessions.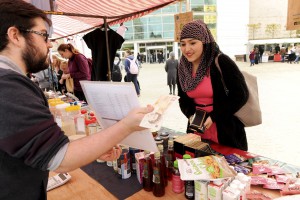 Hazel Wright, Health and Wellbeing Co-ordinator at Teesside University, said: "The Festival of Wellbeing has been extremely well-received and provides opportunities for people who would not ordinarily do so, to get involved in a wide range of activities.
"The University is committed to the health and wellbeing of all its staff and students and we strive to provide a working and studying environment where people feel happy, relaxed and empowered to take time out from their regular routines and try new activities which can have a positive impact on their day to day lives."
The Festival of Wellbeing is an extension of the Health and Wellbeing Fortnight which ran successfully for several years previously.
But due to funding from the Extra Life campaign, the University was able to expand its activities.
The Extra Life initiative is a partnership between the University, Middlesbrough Council, Public Health England, Middlesbrough College, James Cook University Hospital and the Students' Union and seeks to nurture and improve health and well-being for the community.
Teesside University supports various events as part of Extra Life, including Dry January, National No Smoking Day and Stress Down Week. It has also launched Be Sporty, informal and fun sports sessions for staff and students.