Plymouth University is helping to lead a transformation in dental education in the UK through its Peninsula Dental Social Enterprise and focus upon community-based teaching.
Launched in 2013 in response to changes in the funding environment within the NHS, the PDSE sits within the University's Peninsula Schools of Medicine and Dentistry. It oversees the clinical treatment of around 9,000 NHS patients per year, treated by undergraduates under supervision from clinicians. It also includes a broad-ranging community engagement programme that seeks to address some of the major health inequalities in Devon and Cornwall.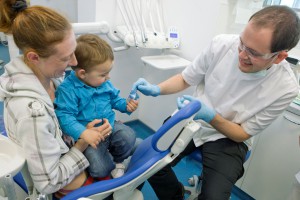 This is the first time that a clinical education entity has been housed in a social enterprise in the UK, and has enabled the University to more closely align its community outreach work with governance.
Based across four Dental Education Facilities in Plymouth, Exeter and Truro, the PDSE has developed links with around 50 charities, voluntary organisations, and community partners, and undertakes a range of projects – some integrated into the curriculum, others through community engagement.
At the Dental Education Facilities, stage 2 undergraduates studying for a career in dental health (dentists, nurses, hygienists and therapists) treat patients under the supervision of a trained dentist. In 2015, 267 students delivered 88,210 clinical procedures across 20,182 appointments. Where treatments are beyond the capabilities of students, they are handled by staff. It's a model of education that has also been replicated in optometry, through the University's Centre for Eyecare Excellence, which takes walk-in cases in Plymouth and offers a range of specialist services, and medicine, at the Cumberland Centre, where more than 1,000 NHS patients are treated by medical students and University doctors.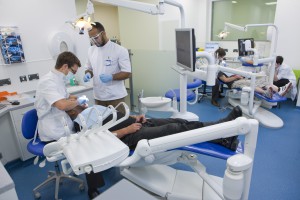 As part of their course, the dental students also work with community groups (again under supervision) to raise awareness of oral health in local schools, elderly groups such as Age UK, the Salvation Army, and charities dealing with vulnerable members of society such as the homeless and drug abusers, including The Big Issue.  PDSE frequently encounters people who are ashamed, scared or embarrassed of their teeth and feel marginalised by mainstream healthcare.
Some of the work has influenced local policy and provision, such as the NHS adopting the school outreach model and expanding it to the most deprived schools in the region. The Family Nurse Partnership has also adopted a flash card intervention developed by students nationally.
The impact of the PDSE was recognised by both the Green Gown Awards and the Guardian University Awards in the space of three months at the turn of 2014, when it picked up accolades for Enterprise and Social and Community Impact respectively. It was also awarded the Social Enterprise Mark, alongside one of the University (the first university in the world to receive one).