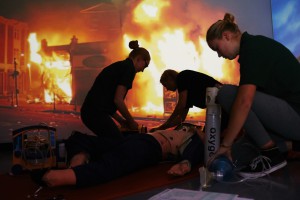 A state-of-the-art clinical simulation centre is providing paramedic science students with the opportunity to practise working in real-life emergency settings without even stepping off campus.
Based in the Faculty of Health, Social Care and Education, run jointly by Kingston University and St George's, University of London, the Paramedic Clinical Simulation Centre is packed with technology to train students for careers that will see them play a vital role assisting patients across Greater London and neighbouring regions.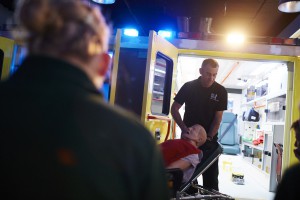 The facilities include a revolutionary immersion room that uses 3D technology to emulate real-life settings. The UK's first university-based paramedic  virtual-reality training centre also houses two life-sized, fully fitted rear sections of an ambulance, equipped to health sector specifications. These enable students to gain vital experience of working within the confined spaces they will encounter when responding to emergencies.
Three purpose-built rooms replicating the type of everyday home settings frequently encountered by paramedics, including a kitchen and a bathroom, also form part of the new centre. Meanwhile, a skills acquisition laboratory enables students to practise treatment procedures, such as suturing, on mannequins.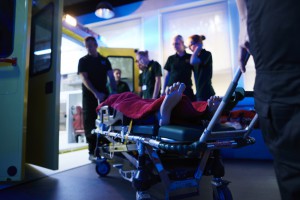 Dean of the Faculty of Health, Social Care and Education Professor Andy Kent said the clinical simulation centre provided a new approach to paramedic education and training. "Our investment in specialist equipment, including the immersion room, makes this a unique facility within a United Kingdom university," he explained. "It gives our students the opportunity to gain vital hands-on training in a true-to-life setting, with sensory stimulation provided through interactive projected walls, light, sound and visual effects all adding an authentic feel to their learning experience. If we need to teach them how to treat a fractured ankle in a nightclub, for example – complete with noise, music, smoke and people – we can now recreate this environment and immerse students within it."
Students registered with Kingston and St George's for the three year BSc(Hons) Paramedic Science degree work in the facilities throughout their courses. They start off in the skills acquisition laboratory before putting their new-found knowledge in to practice within a purpose-built home setting. Later in their studies, they move on to use the immersion room to get more of a real life experience.
Training sessions are filmed and can be viewed live or played back for debriefing at any stage by lecturers. This allows essential skills to be acquired in a safe but realistic environment before practice placements with ambulance services.
Charlotte Mitchell, a first year BSc(Hons) in Paramedic Science student, said the simulation suite was helping her become more confident as well as improving her clinical skills and ability to communicate with patients. "The facilities have provided amazing opportunities to get a feel for what it is really like to treat patients – it's so much better than simply learning the algorithms behind the different care pathways and being taught what equipment to use," the 19 year old said. "The immersion room allows us to enter other scenarios, such as in a nightclub or on a farm, and treat patients while learning how to assess an environment and deal with other things that might occur."
The centre is playing an important part in addressing the ever-changing and increasingly demanding role of paramedic and emergency service providers across the Greater London and South East regions. Kingston and St George's work closely with the London Ambulance Service and the South East Coast Ambulance Service to provide a comprehensive range of education and training for the next generation of paramedics. The institutions are also heavily involved in supporting the continuing workforce development needs of staff already employed by the services.