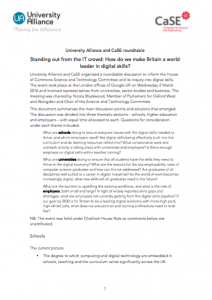 Last week, University Alliance and the Campaign for Science and Engineering (CaSE) held an expert roundtable on digital skills to help inform the ongoing Science and Technology Select Committee inquiry on Digital Skills.
The event, at the London offices of Google UK, involved representatives from universities, sector bodies and business, and was chaired by Nicola Blackwood, Member of Parliament for Oxford West and Abingdon and Chair of the Science and Technology Committee.
The discussion covered three themes – schools, higher education and employers. Read our summary document of the main discussion points and solutions which emerged from the roundtable.