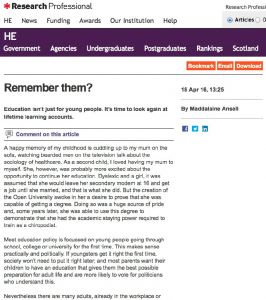 Chief Executive Maddalaine Ansell has written a piece for Research Fortnight on lifetime learning accounts.
She writes: "Most education policy is focussed on young people going through school, college or university for the first time. This makes sense practically and politically. If youngsters get it right the first time, society won't need to put it right later; and most parents want their children to have an education that gives them the best possible preparation for adult life and are more likely to vote for politicians who understand this.
"Nevertheless there are many adults, already in the workplace or seeking to re-join it, who want to continue learning. Some may have failed at, or been failed by, education the first time round. Others may have done brilliantly but ended up in sunset industries. As the recent budget document noted, "as working lives lengthen and jobs change, adults will need more opportunities to retrain and upskill". The recent crises in the steel industry in Teesside and Port Talbot give an anxious urgency to these dry words…
"…The issue is important and so, despite the difficulties, the search for a solution continues. The government recognises this, shown by its announcement that it will be reviewing the gaps in support for lifetime learning, including for flexible and part-time study. This review, expected to report before the summer recess, will be too quick and dirty to develop major policy change, but it could set in train more thorough policy activity looking at truly radical options."
Read the full article here (£) or click on the image.