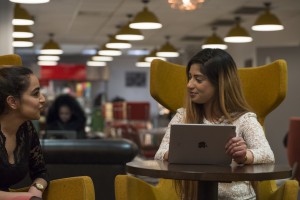 Coventry University is committed to keeping their doors open wide to students but equally determined that this door does not become a revolving one.
It set up Coventry University College (CUC) for people who want to benefit from high quality courses but who have decided that the traditional student experience is not for them.
CUC delivers flexible study options which meet the needs of students and employers, by offering full-time, part-time, work based and distance learning programmes.  For example, CUC's Saturday University has allowed students to consider entering higher education where otherwise they would not have been able to fit study around their lives.
The curriculum is also highly vocational-focused with most of the courses having been designed around professional body qualifications, providing a complimentary mix of employability skills and academic knowledge.   Students follow four 30-credit modules taught over a six-week period. And because there are no options, pre-requisite or co-requisite modules, they can start their course at the beginning of any module, thereby offering multiple entry points.
Students receive 20 hours per week of tuition in small groups. Full time (week days) students have 18 hours per week face to face in class sizes no more than 50 and two hours per week tutorial. Part-time students have eight hours of face-to-face tuition and 12 hours of online supported learning. This allows a part-time student who wishes to put in a great deal of effort to complete a degree within three years. The lifting of the cap on student numbers means that these students will now be able to take out the full-time learning loan and study whilst maintaining their working life.
This high level of personal and academic support has enabled CUC to accept students with lower entry qualifications, on a staged entry programme (HNC, HND, Degree) than in other parts of the system whilst not sacrificing levels of student retention or success. Lower tuition fees also mean that for those students from more disadvantaged areas who may worry most about student debt, can still access a high quality degree at a reduced fee than many other institutions charge.
CUC's retention rates average 94%, with over 90% of the students who remain on their programmes progress or achieve.  While many Foundation Level students elect to continue with CUC, 40% progressed to degree programmes at Coventry University and a further 40% received offers from other Universities. It is unlikely that these students, having only gained low entry points aged 18 would have been able to continue with their higher education had they not attended CUC.
With 43% of the total student profile for 2014/15 from widening participation backgrounds, this supports the successful work the University is doing to improve access to HE.
In 2015, CUC also launched its Uni@Work programme, delivering high quality higher education completely in the workplace. Uni@Work is suitable for both new employees and those already working who wish to learn new skills and increase their career prospects.  CUC is now also working in partnership with the Skills Funding Agency to deliver higher and degree apprenticeships, enabling people of all ages to earn a wage and study for a higher level qualification at the same time.
The success of Coventry University College has led to further expansion across the UK. In addition to the campus in Scarborough on the Yorkshire Coast, they hope to open another campus in the South of the UK in 2017, positioning CUC at the heart of a community which is an intrinsic element of the CUC delivery model.