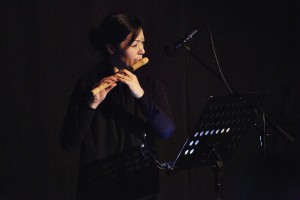 A festival set up by a Huddersfield University academic nearly 40 years ago has grown to become the UK's largest annual, international celebration of new and experimental music – and at the same time provide a wide range of cultural opportunities for the local community.
The Huddersfield Contemporary Music Festival (hcmf//) was initiated by the University's Professor Richard Steinitz in 1978, who directed it until 2004.  It has now matured into an independent organisation based in the University's Creative Arts Building and continues to operate with the University as its major partner and research fellow Graham McKenzie as the current artistic director.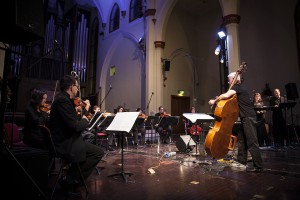 hcmf// takes place over 10 days and consisting of 50 events, including concerts, music theatre, mixed-media, installations, talks and films. There is also a year-round Learning and Participation programme, devised integrally as part of the artistic programme, and to respond to regional and national need.
An international platform for new music in the UK, the festival enthuses existing and attracts new audiences through innovative programming and informed presentation – providing opportunities for British artists to present their work and, as a producer, developing opportunities for British artists internationally.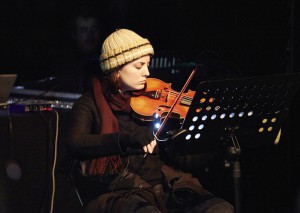 hcmf// generates over £1.2 million of economic impact for the local economy annually over the 10 days of the Festival alone – a return of x 28 on the funds invested in hcmf// via the Kirklees Creative Partners programme. For every £1 invested, the festival generates a further £6 through its own fundraising and partnership work. It has also significantly increased its worldwide profile through international partnership working, and produces and commissions new musical work. The festival also generates average revenue of £100,000 annually in overseas investment, through direct partnerships with Ministries of Culture/Foreign Affairs, Cultural Embassies and Cultural Institutes.
Over the last three years, hcmf// has engaged with over 15,000 people from the local area and drawn people locally, nationally and internationally to Huddersfield to experience the Festival.
It also receives press and media coverage as well as featuring extensively on national radio through its Broadcast Partner BBC Radio 3 – bringing fantastic national profile to Huddersfield and Kirklees and reaching a listening audience of nine million.
It provides around 50 volunteering opportunities each year, and works with the University of Huddersfield to provide longer-term student placements and training opportunities for people living in the district.
hcmf// collaborates with other local cultural and community organisations to develop and deliver projects and programmes tailored for participants from groups or locations with lower levels of cultural and arts engagement. Over the last two years they have worked with organisations including Manasamitra, The Reach Project, The Mission, the University of Huddersfield and Support to Recovery (S2R), covering ages from babies and toddlers through to early years' workshops and performances to hands-on creative experiences with adults, such as the elderly and marginalised members of the community.
hcmf// is committed to offering a free events programme, most notably hcmf// shorts, where new audiences can engage with the festival through a series of short, accessible performances. In 2015, 18 events were presented in total and over 1,700 people attended the day.
The University of Huddersfield received the Queen's Anniversary Prize for world-leading work to promote, produce and present contemporary music to an international audience. The University also holds the Huddersfield Contemporary Music Festival archive within Heritage Quay.