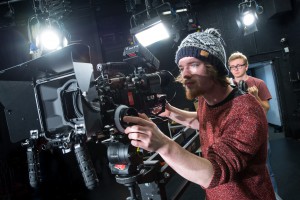 The University of the West of England (UWE Bristol) is committed to helping young people progress into the competitive creative industries by offering paid internship schemes for young people (16-24) to gain critical work experience employers demand.
The university led two large consortia bids to secure funding for more than 150 paid internships and a small number of apprenticeships to offer to young people in the sector. At the time of the delivery, this was the largest programme of paid internships and training being offered anywhere in the UK through the Arts Council's Creative Employment Programme.
UWE Bristol worked with colleagues in the West of England Local Enterprise Partnership (WoLEP), the Department for Work and Pensions and partners in the city's arts and cultural sector to develop a programme of skills support and development for the young people taking part in the scheme.
Between 2013-16, the two bids brought more than £800k additional funding into the region to support young people to access creative sector employment.
A paid internship for UWE Bristol History Graduate, Esme Griffiths at Historic England, was key to kick-starting her career.
Following graduation in 2014, Esme returned home from Bristol in frustration that she'd been unable to find a job.  Turning to the university for direction, Esme discovered the UWE Graduate Internship Scheme, offering paid internships specifically to recent UWE graduates. Discovering a Heritage Researcher (Education) internship running over Jan-April 2015, Esme was keen to apply.
Esme says, "Securing the internship at that point was a real boost, it was something I wanted to do, but I couldn't have done it unpaid.  It was a really good opportunity, earning whilst I learnt, getting experience, developing new skills and transferring the skills I'd learnt during my degree.
"I was responsible for setting up and maintaining a website on the History of Horfield Common, researching and collating people's memories and developing educational resources to take into local schools as part of their 'Heritage Schools' programme. I really enjoyed it and it helped me to realise that interpretation was an area that I wanted to pursue as a career."
Esme credits her internship and the support from Sam Thomson, Director of Civic & Cultural Engagement at UWE Bristol, with helping her to secure a permanent role in April 2015 at English Heritage at the end of her placement.
Sam said: "Esme's story demonstrates the importance to the Faculty that our partnerships with cultural organisations are beneficial to our students, as well as in terms of research outcomes and impact at a strategic level. It also highlights that given a small amount of funding we have the ability to activate excellent opportunities for our students and graduates."