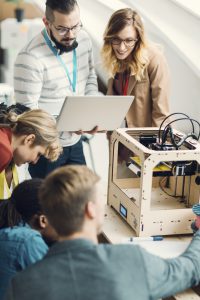 Nottingham Trent University is to receive a share of £10.1 million in European funding designed to help more than 2,000 businesses boost their innovation.
Three universities – Nottingham Trent University, the University of Nottingham and the University of Derby – bid for the money from the D2N2 Local Enterprise Partnership's (LEP) €251m European Structural and Investment Funds Programme.
The Enabling Innovation bid is by far the largest collaborative programme between the three universities in the D2N2 area (Derby, Derbyshire, Nottingham and Nottinghamshire), aimed at matching their expertise to the needs of business. The partnership will also invest public and private-sector match funding into the project, bringing its value to more than £20m.
Nottingham Trent University is receiving £3.8m from the European fund which, combined with match-funding, means it will spend £7.6m on helping businesses to innovate through a range of schemes such as:
Creation of dedicated technical hubs in food and drink, materials engineering, computing and data, and design innovation, all offering unprecedented access to university expertise and graduate talent, supporting businesses around innovation and new technologies
A business innovation programme delivered by Nottingham Business School to provide leadership training
Contribution of 20% towards 60 graduate salaries for up to a year within businesses requiring support to take new products or services to market
Support for academically led projects and student-led consultancy work aimed at engaging with businesses
Additional intensive specialist support for innovative businesses developed through the University's existing Hive incubator scheme.
Mike Carr, Pro Vice-Chancellor (Employer and Economic Engagement) at Nottingham Trent University, said: "This is a really exciting opportunity to meet new businesses and support their ideas for innovation. It is our hope and intention that many of these companies will start an ongoing relationship with the University that could provide interesting opportunities for knowledge exchange, graduate employment and experiential teaching and learning while also supporting local economic growth."
The Enabling Innovation programme will run until 31 March 2019 and is expected to help at least 2,500 businesses in the region.
Funding is from the European Regional Development Fund (ERDF) portion of the D2N2 LEP's allocation of €251m in European Structural and Investment Funds (ESIF).
D2N2 is a private sector-led partnership of business, local authorities, skills and training providers, social enterprise and community organisations and other organisations, which promotes economic growth and jobs creation across Derby, Derbyshire, Nottingham and Nottinghamshire.