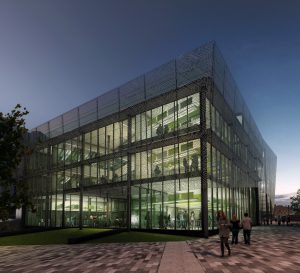 Liverpool John Moores University and the University of Liverpool, in partnership with the Liverpool City Region Local Enterprise Partnership, are to create the first University Enterprise Zone in the city with Sensor City.
Sensor City will bring together the knowledge and experience in sensor technology to become a leading innovation centre. The centre will house, support and establish commercially viable high tech businesses working on sensor systems and applications.
Over 300 businesses are to be created by Sensor City within the next 10 years, and 1000 plus jobs. With £13billion currently generated by the sensor industry in the UK, and 1.4m people employed in sensor-aligned professions, the new facility will ensure that the innovation and entrepreneurial spirit of students and academics can be harnessed by industry.
Sensors play an important role in our day-to-day lives. Detecting and monitoring change in temperature, light, pressure, sound and humidity, their uses are wide reaching in industry, safety and security, and within our personal gadgets and devices. Their usage can only increase as technology advances even further.
With the global sensor market currently worth (US)$490 billion and growing at over 10% each year, Sensor City presents an exciting opportunity for both universities and SME businesses to work together and share knowledge in this cutting-edge sector. As a best practice centre, not only will start-ups benefit from all that Sensor City has to offer but so too will established sensor tech businesses as well as graduate entrepreneurs who need access to expertise and support.
Sensor City will be housed in a bespoke 2,500m2 building within the Copperas Hill redevelopment zone, which is located within walking distance of both universities. It will feature state-of-the-art facilities to include: a co-working space, a Technology Development Zone, An Open Innovation Lab, an entrepreurship coaching and business mentoring space.
The project has been allocated £5 million from the Department of Business Innovation and Skills. £5 million funding from the England European Regional Development Fund has also been secured under the European Structural and Investment Funds Growth Programme 2014-2020 which is designed to drive sustainable economic growth, support key city region growth sectors, the creation of new jobs and to unlock business success.