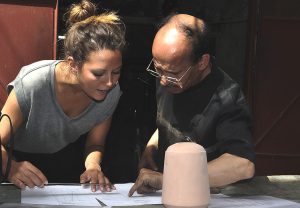 Kingston University supports up to 15 graduates each year by awarding them entrepreneur visas. One student to have benefitted from such a visa is MA Product and Space graduate Hend Krichen. The visa helped Hend, who is originally from the Tunisian Republic, to establish her artisan business designing intricate homeware products both in the UK and abroad.
When Hend started her business she collaborated with skilled craftspeople from her native Tunisia and established an ethical network of manufacturers which provided jobs and enabled local craftspeople to sell their wares internationally. She launched the first Hend Krichen collection 'Tunisia Made' in 2013 and successfully introduced her brand across London's upscale boutiques and stores.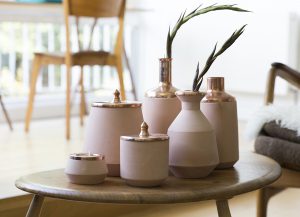 Her inspiration stems from a long-held passion for culture and heritage and the conviction that craft and objects tell a story. "Being born in Tunisia but having lived all my life immersed in different cultures has definitely shaped my work and I'm a true believer that artefacts tell the tale of a place and time," Hend explained.
Hend's latest collection, 'British Made' aims to contribute to the revival of the British craft movement. "British craft, and in particular ceramics, has been in decline for a number of years now," she said. "My new collection fuses traditional British ceramics with a modern twist and the materials are locally sourced by the manufacturers in Stoke on Trent – an area with a strong ceramic tradition."
With her beautiful timeless objects, Hend is well on the way to becoming a household label and said that Kingston University's support had enabled her to build an understanding of the fundamentals needed to build the foundation for her company.
"The mentorship and guidance – which has helped me develop my knowledge in marketing, PR, sales, financial and business planning – has been absolutely invaluable," she added. "Having come from a design background, receiving the visa and enrolling in the Kingston University Graduate Enterprise programme was vital in ensuring I acquired the business and entrepreneurial skills I needed to make my business a reality."