No sooner than Lewis Hamilton won a dominant victory at the British Grand Prix to take his fourth career win at the historic track, students from Alliance universities are hoping to emulate his success at the same iconic venue.
Racing around Silverstone, they will be competing in one of Europe's most established motorsports competitions: Formula Student.
The contest (which holds several events throughout the world) challenges engineering students to design, build, test and race a low cost racing car. They can take part in two different classes (Class 1 or 2).  The UK competition running this weekend from 14 – 17 July will host over 130 university entries from 30 countries.
Managing a technical project under the pressure of a competition helps develop and demonstrate a valuable range of skills and resources among the students taking part, setting them on course for success in their future careers.
Each round of the competition includes a presentation in which students describe the car and make a business case for the vehicle, justifying the level of investment in the project, which can amount to £40,000 or more.  Then competition moves to track events which include tests of acceleration and handling, plus a sprint in which drivers aim for the quickest time over the circuit.
Student teams from several Alliance universities are hoping they will achieve a place on the podium this weekend, including:
Huddersfield University
Team HARE (Huddersfield Automotive Racing Enterprises) has been entering Formula Student since 1999.  In 2013, the team ranked top out of all UK universities with Team HARE's most successful car to date.   Each year with a new car is developed to meet special goals.  This year, for example, the team has developed an all-new engine cooling and exhaust system; an optimised suspension geometry and for the first time will feature a wiring loom (an assembly of wires which transit signals or electrical power) which has been fully manufactured in house. With these upgrades and an even lower target weight, the team hopes to have found a winning formula for HARE-16.
The team comprises of seven Bachelor of Engineering (BEng) students and 10 Master of Engineering (MEng) students, for whom Formula Student is a group project built into their course.
LJMU
LJMU's racing team has competed in Class 1 Formula Student competitions since 2010. The experience which students gain from being involved in the competition prepares them for work within industry. All the team's alumni have cited that the experience they gained from taking part made the difference when they were interviewed for jobs, with each of them saying it gave them real examples when answering questions at interviews on how they have applied their engineering knowledge in practice. As well as hands-on engineering skills, the competition also gives students experience of the vital soft skills which they need in the workplace.
University of Hertfordshire
UH Racing at the University of Hertfordshire), is the UK's most successful Formula Student team. This year, the 30-strong team, led by Thomas Minto, has put in an average of 1,800 hours each in researching, designing and fabricating UH19, in and around their university studies, ensuring they're in top gear ahead of this weekend
Thomas and his team are confident that this could be their most successful year. He said: "This year we have a highly reliable car and are hoping to build on our success following a top 10 finish at Formula Student Germany last year. We have made some huge advancements with our new powertrain system following a switch to the CBR500 engine. We have also created a more aggressive aerodynamic package with an emphasis on improving the balance and handling of the car. Our team has been highly dedicated to building UH19 with many sleepless nights preparing for testing and competition".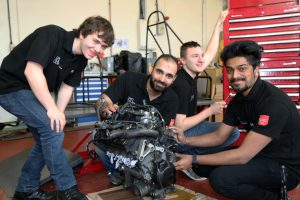 University of South Wales
The University of South Wales are a newcomer to the competition this year and their team, USW Falcons, successfully bid to win the £3000 Rookie prize from the Institute of Mechanical Engineers (IMechE). The Institute awards the money to one team that has never taken part in the competition before, which helped the team purchase and build parts of the vehicle. USW Falcons has also started a partnership with Tata Steel in Port Talbot, where apprentices have taken a real interest in the project, helping to manufacture some of the components in their training facilities. They asked to get involved after seeing plans at an Engineering Showcase at the University.
UWE Bristol
Meanwhile for MSc Mechanical Engineering student and UWE's Formula Student team principal Tom Ward, 2016 will be the second year that he has taken part.  Tom and fellow members of the 40-strong team will show off their car's freshly-welded rolling chassis which it is hoped will help propel them to glory. Watch their latest video here.
For his final year project, Tom has created a planetary gearbox and optimisation tool which will help future engineering students transform the UWE car from a petrol-driven model to a version powered by electric. An increasing number of vehicles competing are electric – 30 out of the 120 registered vehicles in 2016 – and UWE is expected to make the transition in 2018.
The optimisation tool, created on an Excel spreadsheet linked to Visual Basic code, will aid future students by calculating the required dimensions for drivetrain components based on space constraints.
Of seeing the UWE car competing at Silverstone last year, Tom said: "We all had a moment of pride when it hit the floor – the few days before the race were very rushed so I was very happy to see it sitting on its wheels.
"We finished 70th or so but it's difficult because some of the big German teams have a budget of £2 million, whereas we have £16,000. We've yet to complete the event without a breakdown or some other issue so hopefully this will be the first year that happens!"
You can read more about the competition and the teams taking part here.