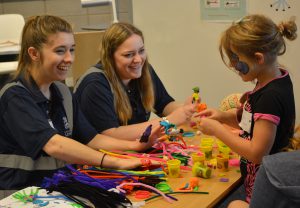 Student as Producer
The University of Lincoln's Student as Producer initiative aims to reconnect universities' core activities of teaching and research by encouraging students at all levels to view themselves as active producers of knowledge. Originally an HEA-funded project, this principle of research-engaged teaching, as a development of research-informed teaching, has become the organising principle of teaching and learning across the University of Lincoln. In 2013 the QAA awarded a commendation to the University for its enhancement of student learning opportunities, citing Student as Producer alongside other novel approaches to student engagement.
Student as Producer provides students at all levels with opportunities to work on real academic research projects. For example, Lincoln's School of Psychology engages undergraduate and postgraduate students alongside experienced academic staff in an annual week-long public research event: Summer Scientist. Now in its sixth year, the programme attracts families from across the Lincolnshire region to the University's Brayford Campus where they can take part in games and activities which inform real research projects on child cognitive development.
This summer around 30 psychology students were involved in delivering the activities, including overseeing experiments and collecting data, supported by seasoned research staff. More than 250 children aged three to ten and their families took part over the five days.
Findings from previous Summer Scientist research activities have been presented at national conferences and published in academic journals with undergraduates listed among the authors.
Bibliography
Healey, M. et al (2013). 'Developing and Enhancing Undergraduate Final-Year Projects and Dissertations'. Higher Education Academy. https://www.heacademy.ac.uk/system/files/projects/developing_and_enhancing_undergraduate_final-year_projects_and_dissertations_0.pdf [Accessed: 23/8/16]
Healey, M., Jenkins, A. & Lea, J. (2014). 'Developing Research-Based Curricula in College-Based Higher Education'. Higher Education Academy. https://www.heacademy.ac.uk/system/files/resources/developing_research-based_curricula_in_cbhe_14.pdf [Accessed: 23/8/16]