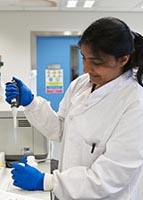 The Daphne Jackson Trust is the only charitable organisation in the UK solely dedicated to returning STEM researchers to their careers following a break of two years or more. The Trust offers flexible, part-time, paid Fellowships, for two or three years, in UK HEIs and research establishments. Fellows undertake a challenging research project and an individually tailored retraining programme, re-establishing scientific credentials and developing an up-to-date research record.
The Trust works with universities representing the diversity of the HE sector. 63% of the Alliance members have engaged with the Trust and 10 members are currently hosting fellowships, with seven of those also sponsoring or part sponsoring.
Huddersfield, Kingston, The Open University, Oxford Brookes, Portsmouth, Sheffield Hallam and UWE Bristol are currently hosting and sponsoring Fellows, whilst Hertfordshire, Manchester Metropolitan and Plymouth are hosting. Coventry and Nottingham Trent both employ past Fellows. We often find that there is a more supportive environment and better prospects of future employment from Alliance universities.
Some years ago I thought I had reached a point in my professional career where nothing surprised me.  Having worked as a physicist, for a learned society and in science communication I knew certain things:-
there would always be a battle to increase women in Science, Technology, Engineering, and Mathematics (STEM);
despite any amount of legislation, the landscape faced by female STEM researchers would not change overnight;
whatever innovative initiatives were developed, someone will always be ready to criticise them;
and that there would always be campaigners working hard to improve the situation whose voices struggled to be heard.
Knowing the trends in promotion of STEM and armed with the experience of being a woman in a male-dominated environment, I embarked on what I thought would be a predictable role as Press and PR Officer with the Daphne Jackson Trust.  As I started communicating with the returners who had completed the Trust's Fellowships, I began to realise what an incredible and under-utilised resource they were.  Remarkable, inspiring, determined and resourceful are just a few adjectives that describe these women, and more recently men, who have been helped by the Trust.  My supposedly predictable role proved anything but and I am delighted that 12 years on I am the Chief Executive of a charity that is going from strength to strength and increasing its influence.
Barriers faced by returners
I am often disturbed by the anecdotal evidence I hear about employers who do not value staff who are parents and question their commitment.  In my experience of being a parent and in dealing with returners who have children, there is no better training for a stressful work environment and working to deadlines than having a career break to bring up children.  As anyone who has done it will know, it sharpens multitasking and negotiation skills, the ability to deliver on time/ budget and conflict resolution skills.  Having made the decision to overcome the many barriers to returning to a career, returners show a high degree of dedication, loyalty and commitment that is often not seen by other employees.
Career breaks are not simply taken by those who have children, and not exclusively by women.  There can be many reasons for a break in a scientific career, such as relocation, caring for elderly relatives, or illness.  As society changes and couples adopt more equal partnerships in terms of careers, it often makes sense for one partner to take a break to care for children, or take on a supporting role as the other moves up the career ladder.  Even so, it is still predominantly women who take career breaks.
Benefits of a Daphne Jackson Fellowship
The Trust's Fellowships make a seismic difference to the careers of STEM researchers.  Fellowships offer an unrivalled amount of flexibility to enable candidates to reach their full potential. Each one is unique and tailored to meet the needs of the individual.
Could you or your organisation sponsor or host a Daphne Jackson Fellow?
I am often asked what I would like for the Trust – my response is engagement with every university in the UK.  Personally I don't think it is an unreasonable goal and it is remains my mission to make that happen.  We are always keen to hear from potential partners across all academic and research institutions. Please contact me at Katie.perry@surrey.ac.uk, to discuss a new partnership. Further information and details about sponsoring or hosting a Fellow, can also be found at www.daphnejackson.org