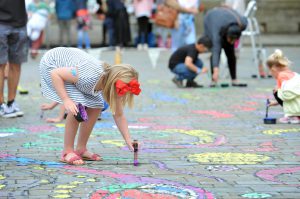 In 2015, as part of Arts Council England's Creative People and Places fund, the University of Huddersfield started working with Creative Scene to investigate the impact of their cultural activities on the local community.
Creative Scene works with residents, businesses and others in the community to create a place where people not only participate in the arts, but actually make them happen. They work together with professional artists, arts organisations and producers, to make art a part of everyday life.
The University's research team, led by Professor Steve Swindells, was embedded within Creative Scene and held regular meetings and consultations to measure the engagement of, and effect upon, local communities and artist development. The team also helped conduct evaluation and support on arts commissioning and current and future event programming.
The Creative Scene programme helps both local and national artists to engage in creative activity with North Kirklees community representatives and audiences. Since Creative Scene events began, volunteers have donated more than 340 hours across 60 different events and reached an estimated 69,000 audience members.  The programme has become a source of pride for residents.
This work has also led to explorations of the programme's relevance to other areas of community interest such as health and economic policy, and how cross-sector collaboration might be fostered to support further positive impact on the region.