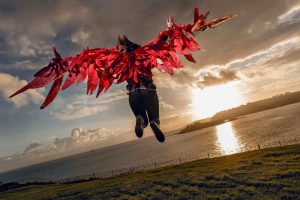 From Francis Drake to the Pilgrim Fathers, Plymouth has always had a spirit of discovery and adventure.  This manifests today in the city's art, culture and creativity.
Plymouth's geographic remoteness can make it hard for its art and cultural activity to get the recognition it deserves.   Through offering pump priming and advice and guidance, Plymouth has seen a re-emergence of a diverse and vibrant creative sector.  Examples of activity include:
The Plymouth History Centre, a major new attraction transforming the city's present City Museum and Art Gallery.  It has attracted almost £15 million from the Heritage Lottery Fund
Peninsula Arts, a public arts programme which will showcase upcoming and established regional, national and international artists in the heart of the city
Plymouth Horizon, which will develop four major arts festivals and events in the city, support a talent development programme for artists and visual arts producers and enable communities to commission visual artworks.  This has received £635,000 from Arts Council England's "Ambition for Excellence" funding
Ocean Studios, which provides more than 100 affordable studio spaces in the iconic Royal William Yard.  Plymouth University was an early investor and helped unlock a further £4.2 million
Port Eliot Festival – Plymouth University was not only a key sponsor but also contributed to its programme of events, from arts and crafts workshops to taking part in their first ever "science-lab".
Plymouth University creates opportunities in the arts for a wide range of people through collaborations with local arts organisations.  These include formal creative partnerships with four non-profit organisations, including Effervescent and the Media Innovation Network.