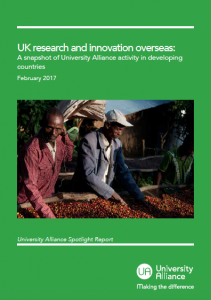 The use of academic research to tackle problems in developing countries is an important aspect of international development. It informs policy and practice overseas and directly assists people in extreme poverty. The body of evidence derived from research can improve the quality and reach of international aid. It ensures that support from donor countries can be targeted more effectively and achieve lasting results.
In the UK, research is at the forefront of the government's development agenda. The Global Challenges Research Fund (GCRF), announced as part of the 2015 aid strategy, is supporting multi-disciplinary projects across 11 challenge areas, covering everything from food security to viral threats in the developing world.
Between them, the 20 institutions in University Alliances are already working in 95 countries eligible for Official Development Assistance (ODA). As a result, they are well-placed to fulfil the objectives of GCRF, as well as other funds aimed at reducing global poverty.
Find out more about our members' work and our recommendations to government in our Spotlight Report.