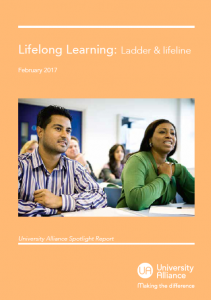 Ambitious new policies and approaches are needed so that people can benefit from education and training throughout their lives, argues a new University Alliance publication today.
 Lifelong Learning: Ladder and Lifeline responds to the drastic fall in the number of part-time students – down by 44% since 2008/9 – as well as the Government's recent Industrial Strategy Green Paper which identified the need for 'ambitious new approaches' to enable lifelong learning.
The report will be launched at an event today (Wednesday) in the House of Commons hosted by Roberta Blackman-Woods MP, Chair of the Universities APPG. Speakers include Open University Vice-Chancellor Peter Horrocks, former Minister for Universities and Science Lord Willetts, UCAS Chief Executive Mary Curnock Cook and writer James Bloodworth.
Drawing on evidence from overseas, the report looks at the success of the Compte Personnel de Formation programme in France which helps those already in the workforce fit study around their commitments and Finland's Noste scheme, which successfully addressed skills gaps in the adult population in response to the retirement of the post-war generation.
Its recommendations include:
Creating a centralised UCAS-style system for lifelong learning courses
Re-introducing lifelong learning accounts and more flexible systems of funding to allow universities to offer accelerated degrees
Broadening the Apprenticeship Levy to cover a wider range of lifelong learning courses, giving employers greater flexibility
In the UK, the report examines how we can build on existing best practice, including the Open University's PEARL online advice and guidance tool and Coventry University's development of 'hop on, hop off' accelerated modular courses which fit flexibly around the needs of students in work.
Commenting, University Alliance Chief Executive Maddalaine Ansell said:
"The importance of lifelong learning has been repeatedly asserted by politicians and commentators, but addressing the challenge requires bold action. Our proposals, if implemented, would be a great start.
"The potential benefits for our economy and society are huge: at a time of unprecedented economic change, as working lives become longer and jobs for life a thing of the past, people need to retrain and upskill throughout their lives. This is essential to power the industries and sectors of the future.
"Lifelong learning crosses many policy areas with higher education a crucial piece in the jigsaw. Currently the system is geared towards 18-year-old full-time students.  Our report highlights how we could support people throughout their lives."
Notes
1. The report, Lifelong Learning: Ladder and Lifeline, can be downloaded here. You can also read about what our universities are doing to encourage lifelong learning here at www.unialliance.ac.uk/lifelonglearning.
2. Figures on decline in the number of part-time students – HESA UK Domiciled First Year Student Numbers, 2008/09 to 2014/15