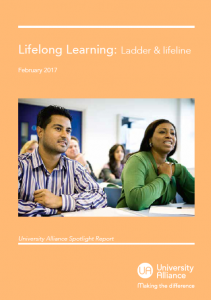 University Alliance's latest Spotlight Report sets out recommendations for government to enable lifelong learning.
Ambitious new policies and approaches are needed so that people can benefit from education and training throughout their lives, our new publication, Lifelong Learning: Ladder and Lifeline, argues.
Its recommendations include:
Creating a centralised UCAS-style system for lifelong learning courses
Re-introducing lifelong learning accounts and move flexible systems of funding to allow universities to offer accelerated degrees
Broadening the Apprenticeship Levy to cover a wider range of lifelong learning courses, giving employers greater flexibility.
Click on the image to download the document – you can also read about what our universities are doing to encourage lifelong learning at www.unialliance.ac.uk/lifelonglearning