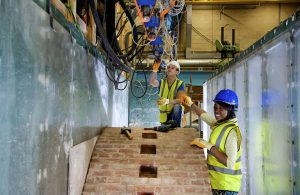 Pioneering a new Civil Engineering curriculum based around real-world design challenges co-created and assessed with employers and flexible online learning.
With industry relevance and practical application in mind, staff at the University of Salford set about a redesign of the entire BSc Civil Engineering syllabus to embrace experience led teaching in the subject. The course design was drawn from a collective 50 years of industry experience within the team and significant engagement with employers throughout. This was led primarily by practical examples and case studies of real buildings to illustrate engineering principles, behaviour, sustainability and good design practice throughout.
As part of the move to a more practice and experience focused programme of academic study, a number of new teaching practices and approaches were introduced supporting every student to achieve their potential.
A significant change to the curriculum was the introduction of a cross module design exercise which forms 20-30% of the assessment in each year. Students work through a series of activities, both individually and in groups, receiving regular feedback from academics and engagement from employers. This drives employability, with students gaining industry insight and building social capital.  A broad range of structural consultancy activity also contributes to student opportunities, allowing them to get involved with real research and development problems. For the student this may turn into a career opportunity.
The traditional lecture is now a rarity. Much content traditionally delivered during the lecture is now delivered through a range of media formats via a Virtual Learning Environment (VLE) creating a highly flexible and inclusive learning experience. Contact time is highly active and dominated by worked examples and audience participation. For example, students are regularly asked to give a lecture on a topic. As a result, students grow accustomed to shared learning methods.  While new first years are often surprised to be asked to engage in formative learning which does not attract credit, third and fourth years are much more accustomed to preparing a 10-minute presentation, having gained experience in doing so.
Students are excited about working online. VLE use is strongly tied to preparation for assessment and as such has become the information hub for each module. A series of short, graded VLE based tests have been incorporated into the curriculum.  Students who under-perform are also offered an opportunity to receive additional small group tuition on specific topics. This has proved to be popular and, in many cases, pivotal to progression. Since the introduction of these methods, attendance at tutorials has improved markedly.
The experience-led learning activity has resulted is a more holistic approach to student learning which promotes independent thought and an investigative style of working. The adoption of technology in many guises has helped to improve both student satisfaction and the general understanding of civil engineering, particularly when contained within a practical design exercise.