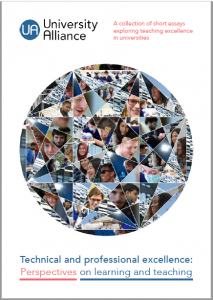 The diversity of Britain's higher education system is its greatest strength, with institutions not only offering students a wide choice of high-quality courses but also a range of learning environments and approaches. For some students, the large civic university is the most exciting and suitable option. Others may prefer a small or specialist institution. While some students thrive under traditional modes of teaching, others learn best by doing – for example by solving real-world problems in small project teams or practising their professional skills on state-of-the-art equipment, in the real world or in realistic simulated environments.
The Government recognised this when it introduced Degree Apprenticeships and I am delighted that Alliance universities now have over 120 higher and degree programmes accepting apprentices and a further 80 in development.
Alliance universities have always valued and championed innovative and excellent teaching, long before the introduction of the Government's Teaching Excellence Framework. We recognise that excellent teaching comes in many guises and that students are best served if universities are encouraged and incentivised to develop new approaches.
The importance of modern civic universities cannot be overstated in the context of Brexit and the Industrial Strategy. We already play a key role in our cities and regions and will work alongside newly empowered city-regions. Professional and technical education and applied research are key to improving productivity in all parts of the country.
So what does excellence look like in professional and technical education? Clearly it must draw on the expertise of employers to give graduates industry-relevant skills. Equally, it must be informed by cutting-edge research so that graduates are able to hit the ground running and challenge their employers to adopt new processes and practices. Excellent professional and technical education also develops global graduates, exposing them to ideas and cultures from around the world and offering them international experiences. Finally, it must support students to succeed from their first interaction to graduation and beyond.
Professor John Latham, Chair, University Alliance and Vice-Chancellor, Coventry University
Click on the image to download the full publication or follow this link.