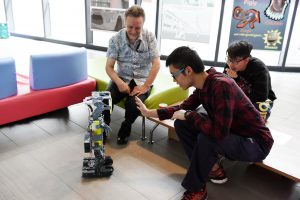 Enterprise education, defined by the Quality Assurance Agency for Higher Education as 'the process of equipping students (or graduates) with an enhanced capacity to generate ideas and the skills to make them happen',5 has been in existence in the UK for the past 40 years, and is becoming increasingly embedded in university curricula. The main principle underpinning this process is the empowerment of individuals as active participants in an immersive learning environment, characterised as being relevant, challenging and real. This approach complements that of the lecture theatre, where the primary function is the imparting of knowledge: the focus is very much on creating learning 'for' as well as 'about'. Strong links to external stakeholders, including the local community, public service and business, are the access routes to real learning experiences. These relationships are significant and require investment in time and energy to ensure sponsors understand the value and impact for themselves and for students.
Enterprise education worth its salt helps graduates to stand out
While enterprise education may – and does – create or unleash entrepreneurial ambitions, resulting in business start-ups, its main aim is to develop skills that cannot be acquired through conventional learning. Now, more than ever, communication, problem-solving, decision-making, creativity, collaboration and project management are essential attributes for a successful career, and a confident and fulfilling life for our graduates. For those first-generation university students who may lack social capital, inculcating these attributes through 'real-life' learning is critically important. It is suggested the value of "…learning a method… is often more important than learning specific content. In an ever-changing world, we need to teach methods that stand the test of dramatic changes in content and context".6
An immersive enterprise learning experience helps to grow self-confidence, resilience and social confidence, with a powerful positive impact on career trajectories, as recipients develop a greater sense of control over their futures and are better prepared to navigate uncertainty in an ever-changing world. Enterprise education worth its salt helps graduates to stand out.
Despite the longevity of enterprise education, it is arguably time to further disrupt and challenge traditional learning paradigms to make sure that they reflect the changing landscape. Universities should become more firmly anchored in the communities they serve and play a pivotal role in unlocking and building the enterprising ambition of students. While historically this form of learning has been the domain of the Business School, universities should embrace a widening mandate and provide the necessary leadership so the approach is widely owned across the campus, exposing all students to a learning experience that focuses upon the development of the whole person in the context of unprecedented uncertainty and change.
Our experience at Teesside University, where many of our students are the first in their family to enter higher education, without any of the social capital that many others take for granted, demonstrates the enormous difference that these interventions can make to student futures. We aim to have enterprise education embedded across the curriculum, supporting students to develop work-ready skills within and beyond their disciplinary context.
The following case studies illustrate the need for and value of a range of approaches.
Case study: Digital Studio at Teesside University
The Digital Studio, operated by the School of Computing, Media and the Arts, is designed to be a hub of innovation, enterprise and employability, bringing together multi-disciplinary groups of students, graduates and staff to work on commercial digital and creative projects with and for strategic partners. Set up in January 2017, it began by employing 10 graduate interns to work on commercial and in-house projects for a minimum of three months.
The studio's primary aim is to provide work experiences for creative and digital students and graduates, giving them the opportunity to work on high-end commercial projects in a multidisciplinary real-life setting. It also enables academic staff to upskill, develop collaborative projects underpinned by their own research, and create learning materials to enhance their teaching.
The Studio was set up in response to the need to improve employment outcomes in a range of computing-related creative disciplines and address the demand for employability and entrepreneurship skills in the creative and digital sectors. This was a high priority, particularly for students from creative courses in games art and design and animation, who were emerging with an excellent level of creative and technical skill but lacked confidence and the softer, work-ready skills that employers look for.
Following the initial three months, five interns were kept on for a total of eight months mentored by academic staff and an experienced award-winning Creative Director. The work ranged from animation production on short and feature film format projects to app and online resource commissions working with Public Health England, South Tees NHS, and Cleveland Police. To develop the next group of interns, two of the original interns were employed as Production Assistant and Lead Animator for a further six months.
The Studio's USP is the ability to offer students and graduates the opportunity to work alongside staff on multidisciplinary commercial projects in real time.  Further initiatives planned for the School include a Cyber Clinic, providing cybercrime advice based on the Government-backed Cyber Essentials Scheme; a Super Games Studio; and the commercialisation of student project work (creative and digital students supported to sell their work online and via the university, MIMA and BALTIC shop).
Case study: Digital Studio at Teesside University
Developed in support of the Business School's four key graduate attribute pillars – civic in thinking; enterprising in attitude; collaborative in action; and global in outlook – the Business Clinic provides an integrated learning experience designed to build confidence, connections and creative thinking. Business management students partner with local businesses as part of the Enterprise in Practice module to work collaboratively over three months to understand business challenges, identify barriers and, in consultation with the client, develop a way forward.
The enhanced learning experience this offers for students, in writing their own curriculum, immersion in real business issues, soft skill development, CV enhancement and exposure to employers, supports current academic conversations about providing a forum to 'use, apply and act'.7
An example client is Daisy Chain, a local charity supporting families affected by autism. The charity needed to find a way of obtaining meaningful feedback from users to ensure it was meeting their needs, and conventional methods would not work. The Business Clinic student group talked to families, volunteers and staff, and through discussion, collaboration and a little creativity came up with a 'feedback tree' – a mural encouraging users to put up drawings about their thoughts and feelings. The feedback tree is now in place at Daisy Chain.
The success of the Business Clinic's model has prompted a move to roll it out more widely across the university, to develop cross-disciplinary teams capable of addressing multi-dimensional challenges.
This essay has been extracted from our publication, Technical and Professional Excellence: Perspectives on learning and teaching.
Footnotes
5 QAA (2012) Enterprise and entrepreneurship education: Guidance for UK higher education providers 
6 and 7, Neck, Heidi M. and Greene Patricia G. (2011). "Entrepreneurship Education: Known World and New Frontiers." Journal of Small Business Management, 49(1)