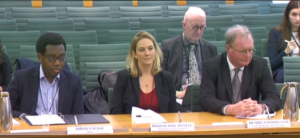 University Alliance Chief Executive Maddalaine Ansell joined a panel of experts to discuss the higher education market at a recent meeting of the House of Common's Public Accounts Committee.
Alongside Maddalaine were Amatey Doku, Vice President (Higher Education), National Union of Students and Dennis Farringdon, Visiting Fellow, Oxford Centre for Higher Education Policy Studies.
You can watch the discussion on Parliamentlive.TV or read the transcript here.
Maddalaine also wrote a letter to the committee to support key issues she highlighted to the Committee. You can read the letter here.