Professor Alistair Fitt began his education at a state-run grammar school before going on to Oxford University to study mathematics at undergraduate, master's and PhD level. He then embarked on a fairly traditional academic career, working for the university as a research assistant in an engineering lab.
Having said that, he never set out to become a Vice-Chancellor or senior administrator. In that respect, Alistair's career was partly serendipity, based on his continuing desire to challenge himself and move forward, to the next level. After progressing through the ranks at the University of Southampton, becoming Head of the School of Mathematics and later Pro Vice-Chancellor for International, Alistair moved to Oxford Brookes. After four years of leading the university's Research and Knowledge Exchange portfolio as PVC, he was appointed Vice-Chancellor in 2015.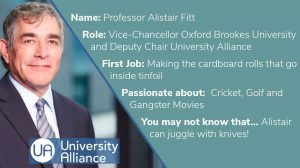 Alistair doesn't try to predict the future. He says "I want Oxford Brookes, and the sector, to be agile and flexible enough to cope with anything." This is particularly true with the barrage of change and uncertainty faced by the HE sector. With a new regulator, reviews into funding and the TEF, ever changing ministers and secretaries of state and of course the still-present potential of a no-deal Brexit, Alistair is focused on guiding both Oxford Brookes and the wider sector through "the minefield ahead".
Providing a strong collective voice and a steer to the sector is, for Alistair, one of the greatest attractions to being part of a mission group; "The mission group opens doors to things you cannot access as a single university. They are a collective power and that's why they're so important and useful." However, it is not just the traditional "elite" who should be making their voices heard in the corridors of power. This is where, for Alistair, University Alliance is such an important organisation. As he puts it, "UA speaks for a wide range of seriously important HE institutions that are a key part of powering the UK. We educate a huge number of professionals that keep the country functioning, such as teachers, nurses and health professionals." In taking up the role of Deputy Chair, Alistair hopes to help UA realise our considerable potential to shape the future Higher Education landscape.
This is because, at the heart of it all, Alistair is driven by the desire to make things better through Higher Education and the range of benefits it brings to the country. He says, "I've worked in HE all my adult life and I've always been most passionate about two things – students and research. Students are the leaders and influencers of the future- ultimately they hold the fate of our nation in their hands-and they are the most fun and interesting people to be around. Similarly, research holds the solutions to all of our problems. I've always felt that science, by which I really mean knowledge, is the thing that can take us wherever we want to go."