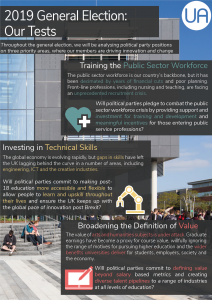 University Alliance, the voice of professional and technical universities, has today released three tests to assess and engage the various political parties' positions throughout the general election. Alliance universities work with employers to deliver practical skills-based learning and innovative applied research to solve the problems of the future and train the workforce of tomorrow.
Their three tests reflect priority areas where their members are working with industry partners and other sectors to drive innovation and change; public sector training, technical skills provision and creative education.
University Alliance will be campaigning on these three areas in the year ahead, and over the coming weeks and months will be stacking detailed asks and lived experiences of their members alongside the priorities of political parties and our new government to identify bold and evidence-based policy solutions.
Chair of University Alliance, Professor Debra Humphris, Vice-Chancellor of Brighton University said: 
"The 2019 General Election comes at a time of uncertainty, with new skills and opportunities needed to navigate the social and economic change ahead. We have identified three broad challenges that we believe future governments need to address, and in which Alliance universities are driving innovation and change.
"Our universities are a key part of a complex picture and the answers to these challenges will be found within and beyond our institutions. We look forward to collaborating with industry, other sectors and future governments to shape policies and find innovative solutions."
The three tests are:
1. Training the Public Sector workforce
Will political parties pledge to combat the public sector workforce crisis by providing support and investment for training and development routes and meaningful incentives for those entering public service professions?
2. Investing in higher technical skills
Will political parties commit to making post-18 education more accessible and flexible to allow people to continually learn and upskill throughout their lives and ensure the UK keeps up with the global pace of innovation post Brexit?
3. Broadening the definition of value
Will political parties commit to defining value beyond salary based metrics and creating diverse talent pipelines to a range of industries at all levels of education?
View the full publication here
For more information or to arrange an interview, please contact Beth Button on 07756155056; beth@unialliance.ac.uk