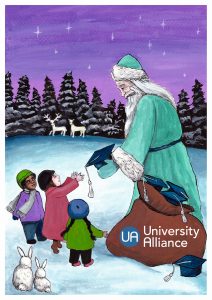 This year's University Alliance Christmas Card Competition has been won by Hanna Jujka, a first year Illustration student from the University of Brighton.
The competition tasked students and staff across Alliance Universities with designing a card which would reflect the work of the alliance their members as well as the Christmas Spirit.
Hanna's winning card shows Father Christmas giving graduation caps to children. She says she was motivated to show the way in which universities and University Alliance changes lives through their work; "The work of University Alliance helps us to pursue our childhood dreams, providing students with essential skills and fulfilling their potential. Nobody is born a leader, an artist or a scientist. It all begins with a child, dreaming of becoming somebody. Giving them a chance to become this somebody creates the next generation of people, who are able to fight for a better world."
Competition judge and University Alliance CEO Vanessa Wilson said, "We chose the winning design for a number of reasons: the first is that it represents a fundamental belief of Alliance universities about enabling greater access for future generations to the lifelong benefits of a higher education which, given this was designed by one of our Alliance university students, came across as particularly poignant. Secondly, at a time when as a sector we have witnessed much debate about who and what percentage of the population should go to university we felt that the subject of the design of itself was very current and could potentially generate some debate, which on balance we thought was no bad thing. Finally, whilst we recognise that these things are always very subjective, the design scored highly for its overall aesthetic appeal".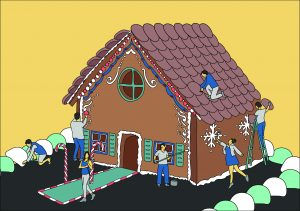 Or Oron Misgav's card on Achieving a Shared Christmas Task was awarded runner up. Or, who is doing an MRes in Creative Industries at the University of Portsmouth, wanted her design to show universities with shared values and common goals working together as a force for greater good. She said "In the illustration, a group of students are working collaboratively to achieve a mutual goal. Everyone feels comfortable in their equal share, they seem to enjoy working together and have a good connection."
The winning design will now become University Alliance's 2019 Christmas Card, sent to key stakeholder across universities, the Higher Education sector and the government. Hanna will also receive a £50 voucher.
You can find more of Hanna's work Instagram at @art_out_ofmymind