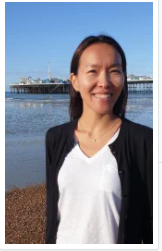 University of Brighton mathematician Dr Oyuna Rybdylova has received a 'lifechanging' UK Research and Innovation (UKRI) grant of £1.1m to further her work by being awarded a Future Leaders Fellowship.
Dr Rybdylova is one of 101 recipients to benefit from UKRI's flagship scheme, which has invested a total of £109m in the fellows and is designed to establish the careers of world-class research and innovation leaders across the UK.
Dr Rybdylova specialises in multiphase flows, such as droplets or dust particles in the air, and focuses on modelling sprays using mathematical and numerical techniques. The four-year research funding will allow her to build a team to develop and test a novel approach to modelling sprays and produce free, open software to permit easy access to the model. The team will work on specialised solutions for inhalers and fuel sprays, looking at the complex composition of liquids and the specifics of the flows.
Alliance universities are home to some of the most talented, dedicated, and innovative researchers in the country. Researchers like Dr Rybdylova are grounding research and innovation in solving everyday problems, ensuring that their work is intrinsically linked to local businesses, local people, and local areas, such that it makes a real and practical difference on people's lives.
In 2018/19, Alliance universities received over £87m research funding to study and implement cutting edge research and programme delivery to power local communities, and are central to the hope that this country's recovery will be driven by cutting-edge research and innovation.