The Doctoral Training Alliance (DTA) recently held its Images of Research 2020 competition awards, showcasing the very best of Alliance universities early career research talent and creativity in science communications.
Earlier this year, DTA PhD researchers were invited to submit an image summarising their research, along with an accompanying blurb for the DTA Images of Research competition.
The competition is part of the wider DTA training programme which develops in students the knowledge, abilities and techniques to do research today – including the important ability to communicate the complexities of scientific projects to different audiences. This year's competition highlighted that developing the ability to present evidence-based scientific arguments to the wider public is particularly pressing for early career researchers. Through summarising their research in a single image and a short text, competition entrants put into practice these skills in disseminating their projects across the now paramount virtual realm.
The judging panel, made up of DTA National Director Tara Dean, UA CEO Vanessa Wilson and the DTA Directors and Deputy Directors, thoroughly enjoyed reviewing the excellent set of entries and finding out more about the range of ground-breaking research projects being carried out across the DTA. DTA researchers, supervisors and members of the DTA Training and Management Groups were also invited to select the most engaging images in the People's Choice vote.
Images were then evaluated according to how effectively they conveyed the area of research to a non-specialist audience.
Louise Mitchell (Bioscience, University of Salford)
won the Judge's Choice. Her image,
'Finding positivity through planting and protecting health through a pandemic: a positive view from Fay and Alex'
, (pictured below) presented a project that evaluates the health and wellbeing benefits of greening and growing projects for older adults. Cecilia Gialdini (Social Policy, Ulster University) was runner up for the judges with
'Linguistic justice for the world'
which conveyed her research about how states implement just and fair language policies.
The winner of the People's Choice was Ifrah Mussa (Energy, Kingston University), whose image 'The snow never bothered me anyway!' (pictured below) taken while at the WinterWind 2020 conference in Sweden, was inspired by her research into the use of wind turbines in cold climates. Runner up of the People's Choice was Lénaïc Borot (Bioscience, Liverpool John Moores University) with 'Does the activity of the brain allow me to watch what you're watching?'. This image was inspired by her project which studies how the brain processes sensorimotor information.
A huge well done to all DTA researchers who submitted images, and a huge congratulations to Ifrah, Louise, Cecilia and Lénaïc!
The winners and runners up – Ifrah Mussa (top left), Louise Mitchell (top right), Cecilia Gialdini (bottom left) and Lénaïc Borot (bottom right)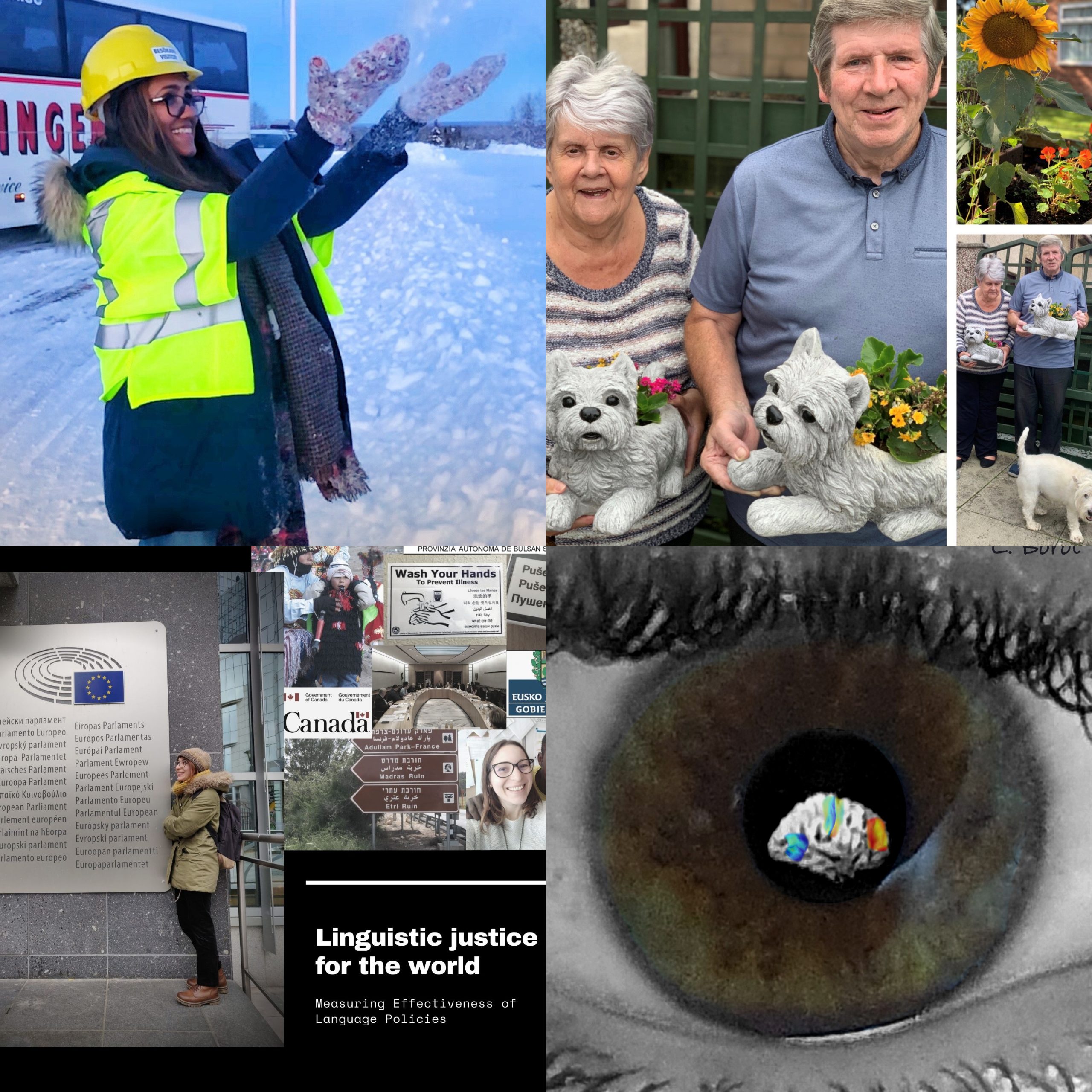 All the entries can be found here.