2020 – A third extraordinary year for DTA3
Written by Heather Bennett, Deputy Head of Doctoral Training programmes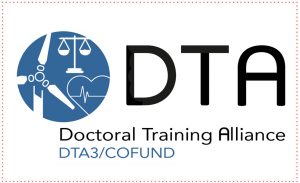 It might be a cliché to define 2020 as an extraordinary year, but for the DTA3 programme, 2020 has been the third extraordinary year in a row.
In early 2018 University Alliance was awarded funding through the ambitious Marie Skłodowska-Curie Cofund doctoral programme, which offers PhD researchers high-quality and innovative training and knowledge sharing opportunities. We are one of only a small number of UK-based Cofund projects and the only UK umbrella organisation, bringing together 15 host institutions to establish and deliver the programme.
2018 and 2019 were busy years. We collated PhD project proposals, completed the global recruitment of 70 international fellows, aligned HR practices and audit trails across all the partner universities, all at the same time as delivering an already-established doctoral training programme (DTA).
2020 was expected to begin with the smooth conclusion of our recruitment activities as our final cohort arrived, but this was not to be. The onset of travel restrictions in March meant some of our global fellows were unable to travel to the UK for months after their start dates, with one commencing her PhD at Teesside from her kitchen in Southern India.
While responding to this new environment, the DTA Team had to adapt themselves to their new work backdrop, which included home schooling, remote inductions for new staff members, as well as responding to additional student worries about what the pandemic would mean for projects and funding.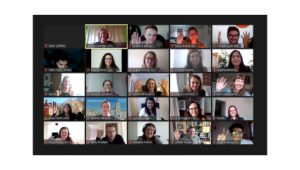 Although it's been challenging, we've achieved what we planned this year: welcoming the final cohort of fellows (who have now all begun their projects) and transitioning to the delivery phase of the enhanced training programme, which equips our global recruits with a whole host oftransferrable skills.
In fact, we've done a lot more than this. The challenges of 2020 have shown the extent of the support that DTA3 is able to offer to its remote PhD researcher community. I'm proud to be a part of a team that genuinely cares for the wellbeing of its researchers, and which  was so quick to adapt its support in the new remote environment.
In March the DTA Team swiftly mobilised to move our previous in-person training programme online, developing our Zoom facilitation skills as we went. We've hosted four online residential training schools, numerous remote elective sessions and a suite of virtual 'catch up' sessions that range from informal coffee socials to DTA Director lead subject discussions that provided academic advice to the DTA community. The training programme now also prepares fellows to disseminate their research in the remote environment, and we're developing additional resources to support their mental health and wellbeing – issues that have become even more pressing for PhD researchers in 2020.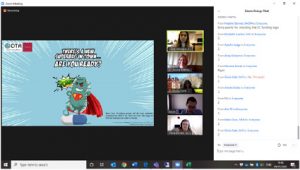 To complement this, we've provided researchers with new tools to establish peer-to-peer connections virtually. They're encouraged to reach out to one another using digital researcher profiles which detail the research interests and contact details of their peers. We've also established a cross-programme, cross-institutional representation system. While supporting our ability to actively listen to our students' voices, this empowers researchers to organise their own social and networking opportunities.
In September we even squeezed in delivering a paper at the Vitae conference, on how Covid-19 has helped enhance our global communities.
Without a doubt 2020 has been the most challenging year yet for DTA, but it's also the year that has brought us even closer to our students. DTA3 are the first DTA cohort whose recruitment the DTA Team has been actively involved in. This put us in close contact with fellows from application and interview, to the regular Zoom sessions that 2020 has brought. We've provided nurturing video calls for students to present their work, exchanged tips on managing the misery of isolation, and shared intel on where to source bread flour and yeast during lockdown.
2020 has shown us new ways of supporting our cohorts even though we're all spread across  universities nationwide. Undoubtedly this is DTA3's most valuable lesson so far, and it is this that frames the transition into 2021 as we prepare for our future delivery.