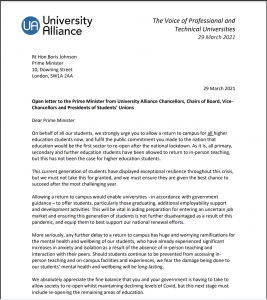 More than 40 University Chancellors, Chairs of governing bodies, Vice-Chancellors and Student Union presidents from the University Alliance have joined together to call on the Prime Minister to permit universities to re-open from April 12.
In an open letter to the Prime Minister, the group urge the Government to allow a return to campus for all higher education students, stating that delaying their return will significantly impact students' development and wellbeing.
The letter has been signed by University Chancellors including Sir Lenny Henry, Lord Boateng and Lord Salisbury, and calls for the Government to act to ensure students are not further disadvantaged as a result of the pandemic.
The letter says that allowing a return to campus would enable universities – in accordance with government guidance – to offer students, particularly those graduating, additional employability support and development activities, which will be vital in aiding preparation for entering an uncertain job market.
The group have raised concerns that further delays to a return to campus could result in serious ramifications on the mental health and wellbeing of students, who have already experienced increases in anxiety and isolation as a result of the absence of in-person teaching and interaction with their peers.
The letter says that universities are well prepared to welcome students back safely, pointing to the millions of pounds invested to ensure campuses are Covid safe and secure, and the data showing little evidence of on-campus infection or transmission within the wider community.
Professor Debra Humphris, Chair of University Alliance and Vice-Chancellor of the University of Brighton said:
"We are urging the Prime Minister to uphold his public commitment that education would be the first sector to re-open after the national lockdown, and allow university students to return to in-person teaching and on-campus activities.
"This current generation of students have displayed exceptional resilience throughout this crisis, but we must not take this for granted, and we are determined to ensure they are given the best chance to succeed after the most challenging year.
"As we face up to the challenges and opportunities of the months and years ahead of us, with the recovery from Covid and chance to forge a new path in the world post-Brexit, it is surely the talent and skills of this generation of graduates who will help build back Britain better. We should be giving our brightest minds and our future workforce the best start, so that in return, Alliance universities and our students can help power our economic, social and cultural future."