Yesterday, we launched our campaign 'Driving Academic Diversity in our Media Voices', which aims to take practical action to support greater numbers of diverse academics to engage with the media. To mark the launch, we hosted an online event, where a panel of speakers addressed the importance of media diversity, and how the higher education sector can take collective action to allow for greater representation in the academic voices within the media.  
The event also marked the launch of our 'Expert Bank', which has launched on our website and is hosted by one of our campaign partners ExpertFile. From this, journalists and other media representatives can search for their chosen topic and select UA specialists from the field for comment. The bank holds the profiles of over 60 academics, who will be available for media comment.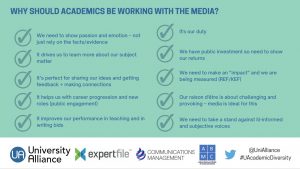 The online panel discussion event included introductions from campaign coordinators Beth Button, Head of Communications at University Alliance, and Justin Shaw, Chief Higher Education Consultant at Communications Management –one of our campaign partners. During his slot, Justin emphasised the need for a campaign of this kind, and for the Expert Bank resource, in diversifying the kinds of expertise that are covered in the press and for encouraging academics to engage with the media.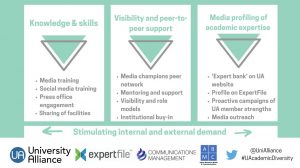 Beth explained how the campaign aims to double the number of Alliance academics engaging with the media by 2024, through a programme of work which will offer training, mentoring and profiling for academics.
Find the full presentation here.
Alongside the campaign, a manifesto has been released outlining the objectives and activities of the campaign – this can be found here.
Following this, an insightful discussion was chaired by UA Chair Professor Debra Humphris, who was joined by campaign champions Professor Vini Lander – Professor of Race and Education, and Director of the Centre for Race, Education and Decoloniality at Leeds Beckett University, and Marverine Duffy, Course Director for Journalism and core member of the Sir Lenny Henry Centre for Media Diversity at Birmingham City University. 
Stimulated by questions from attendees – which numbered 72 in total, including a large proportion of the campaign's media champions at our member universities – the conversation dissected some interesting topics, including the intersection between academia and journalism, why Black and Global Majority academics are often reluctant to take media interviews, and advice for academics on how best to conduct themselves when engaging with the press.  
Watch the full launch event recording below.