First published in Public Sector Focus on 28th April 2021.
Written by University Alliance Chair, Professor Debra Humphris.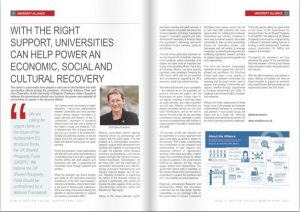 The nation's universities have played a vital role on the frontline and with vaccination efforts during the pandemic. University Alliance Chair and Vice-Chancellor of the University of Brighton Professor Debra Humphris believes the government should now harness the power and potential of universities as assets in the recovery efforts.
As a former nurse now working in higher education, I know how collaborations between universities and their partners across sectors support innovations in public services and delivery. In the 12 universities I represent in University Alliance alone, we train over a quarter of the nation's nurses and midwives, 15% of teachers and 18% of social workers, and we run a quarter of all architecture, building and planning courses, so we are deeply proud that we support the talent, ideas and research which power our public services.
During the pandemic, close relationships with the NHS and social care enabled our universities to play a key role in supporting frontline efforts with staff capacity and equipment, and later, in supporting the vaccination drive through research and facilities.
While the spotlight has shone brightly and rightly on the vaccination discovery endeavours of the UK's most research-intensive universities, what is less known is the work of Alliance-type institutions, which are doing critical work realising the benefits of vaccine discovery to support the country's vaccination effort.
Alliance universities deliver applied research driven by partnerships with industry and the public sector. This has enabled us to commercialise vaccination research, support skills development and facilitate the logistics of manufacturing at scale. For example, Oxford Brookes University are developing a coronavirus vaccine through their spinout company 'Oxford Expression Technologies'. As we have seen with the challenges of vaccination procurement and delivery, having in-country manufacturing and delivery ensures targets can be met, and Teesside University is supporting the rollout of the Novovax vaccine by working in partnership with industry to develop the skills capacity of the vaccine manufacturing workforce within the Stockton-on-Tees region.
Sitting at the nexus between higher education, business and public services, it is often Alliance universities that deliver the commercialisation of findings, translational research, innovation support and skills development necessary to develop ideas into application; delivering real-world innovations in care, services, products and delivery.
This role will be particularly important as we look beyond the immediate response to the pandemic, where universities of all shapes and sizes have an important part to play in the rebuilding efforts. That is why at University Alliance, we have recently launched a new campaign- Powering the UK's future– which sets out our potential and commitment to supporting the UK's economic, social and cultural recovery.
We believe that the work of our universities – the research we do, the graduates we produce, the jobs we support and the businesses we grow– brings value to our regions, including in such key areas as public services, and major industries old and new. Alliance universities are deeply connected across our civic and local infrastructure, and as we look to recover from this crisis, we can use these connections, and our closeness to public services and relationships with industry to support growth in innovation, infrastructure and skills.
The success of this role however will be dependent on a policy approach that sees universities as partners, assets for the recovery. With a deep understanding and commitment to the prosperity and sustainability of their regions, and extensive delivery of regeneration activities in their towns and cities, it makes sense that universities should be utilised as delivery partners in the government's levelling up agenda, yet they remain largely absent from interventions. The government should seek to capitalise on the existing infrastructure and expertise of universities to support the ambitions laid out in the levelling up fund prospectus.
Regionally imbalanced Research and Development (R&D) and innovation investment will not help tackle regional inequalities, so our campaign calls on the government to ensure investment facilitates more places across the UK to fulfil their R&D potential and more opportunities for collaboration between universities and industry. Investing in more near-to-market research will enable universities to draw on their partnerships across the innovation system, with businesses and civil society, to leverage investment, accelerating development and facilitating exploitation research activities to catalyse regional economic growth and drive regeneration.
This work will become increasingly important as the support from the EU is phased out post-Brexit. EU Structural Funds have been a key enabler of collaboration between universities and business and the public sector, used to support and develop communities and regions; whether through programmes to increase employment and skills, or initiatives to drive forward R&D, innovation and enterprise.
Without the timely replacement of these funds, many of the projects and schemes collaboratively delivered by universities and partners in local areas across the nation are at a huge risk, affecting individuals and livelihoods across the UK, at a time of growing economic challenges.
That's why we are calling for urgent clarity on the future of the replacement EU structural funds, the UK Shared Prosperity Fund (UKSPF). We believe the UK Shared Prosperity Fund should be underpinned by a National Framework setting balance of funding to skills development, business support (particularly for SMEs) and research & innovation.
Throughout the pandemic, we have witnessed the power of the partnerships that exist between a thriving and diverse higher education sector, the public sector, and industry.
With the right investment, and policies in place, Alliance universities can draw on these strengths to support an economic and social recovery that truly levels-up our regions and powers the UK's future.
@debrahumphris