The full UA consultation submission can be found here,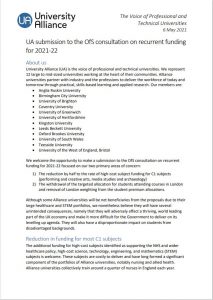 or summarised as:
UA are strongly opposed to the reduction in funding for C1 subjects, which we believe are as strategically important as other high-cost disciplines. Firstly, they bring a significant contribution to the UK economy and provide crucial skills needed by UK businesses, both within and beyond the country's world leading creative industries. Secondly, as the OfS notes, they 'make a particularly important contribution to access and participation'.
It is unclear why the Government wishes to actively disincentivise institutions from offering provision directly linked to shortage occupations, favouring recruitment from overseas over the upskilling of the UK workforce.
Whilst the additional funding for small specialist providers proposed is welcome, disincentivising creative arts provision at non-specialist institutions will only exacerbate existing inequalities. Specialist institutions tend to be clustered in London and the South East and attract students from more advantaged socioeconomic backgrounds. The proposals in the consultation threaten to make studying creative arts the preserve of a small group of elite students who can study away from home. This is completely contrary to the Government's levelling up agenda.
In the aftermath of COVID-19, many communities will need economic transformation, and the creative industries will be central to the recovery across the UK. Reducing funding for creative subjects could significantly compromise the role of universities as a talent 'pipeline' for these industries and an enabling force for recovery. The proposals are also directly contradictory to the strategic ambitions laid out in the Government's Plan for Growth, which not only recognises the economic value of the creative industries but the wider value of creative education and skills in driving wider innovation and enterprise.
London-based Alliance universities stand to lose over £2m each in 2021-22 because of the proposals to withdraw targeted allocation for students attending courses in London and removal of London weighting from the student premium allocations. This will directly impact access and participation –many London Alliance universities have a high proportion of commuter students, many of which live in some of the country's most deprived areas.
Teaching-intensive HEIs in London such as Alliance universities train a significant proportion of London's public sector workforce, such as teachers, social workers, nurses, and allied health professionals. As many of these courses are already lossmaking, any further funding reductions could put their viability at risk. Other potential impacts of the proposals include a reduction in staff and cuts to student services, which could adversely affect the quality of higher education in London.