Alliance universities will play a vital role in powering jobs and opportunities for graduates and those in the community, supporting the nation's social, economic and cultural recovery in the months and years ahead.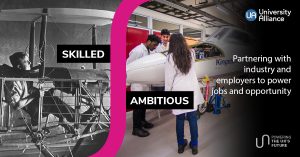 In the first of 6 mini campaigns being delivered in 2021 building on the recently launched 'Powering UK's future' campaign, University Alliance have today launched 'UA powering Jobs'  – a month-long exploration and celebration of the value and contribution Alliance universities bring to individuals and the job market, and how this will support a recovery.
The #UAPoweringJobs campaign will showcase how courses at Alliance universities are preparing the future workforce, and are designed in partnership with industry and employers to equip graduates to move seamlessly into employment from day one; through practical, skills-led learning, real-world experience and on-the-job training. Along with featuring the role Alliance universities play in training the next generation of talent for high-demand industries such as the Public Sector and the creative industries, the campaign will also explore the role they can play in preparing graduates for jobs that don't yet exist and the multiple careers they may have over their lifetime.
The campaign will also highlight the role Alliance universities can play in supporting the lifelong learning, upskilling and reskilling desperately needed to kick-start an economic recovery, and how they can drive local growth and regeneration through this work.
The campaign will feature case studies and content from UA's members, and examples of partnerships with major national employers and local SME's across the country.
---
With strong links with local business and industries, tailored placements and flexible and innovative higher technical provision, Alliance universities are helping meet skills shortages in key growth areas in communities around the UK.
There are over 4,500 apprentices in programmes across Alliance universities in England, including more than 50% of all civil engineering degree apprentices in the country
We not only prepare graduate talent but we are significant providers of Continuing Professional Development (CPD) to organisations in our regions, helping employees to build the skillsets and knowledge to support the growth of their organisations. 
Between 2016-19, Alliance members ran 2.6 million days of CPD and executive education to businesses, charities, social enterprises and individuals.
---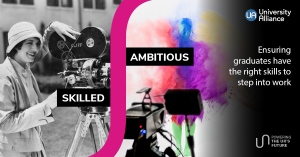 University Alliance CEO, Vanessa Wilson said:
As we begin to move out of the pandemic and rebuild the nation's economy, Alliance universities and their role in training the UK's future workforce will be invaluable. Through their close relationships with industry partners and employers, Alliance universities deliver practical, skills-led learning with real-world experience and on-the-job training; producing industry-responsive provision and helping address skills shortages.
Rebuilding from the pandemic will require more than just talented graduates, we will need an adaptable and resilient workforce, and even greater numbers will need to upskill and retrain. The partnerships that underpin our technical and vocational education at Alliance universities will play a vital role in supporting people to access flexible lifelong learning, and we will draw on our strong engagement with employers to boost the skills of the current workforce.
Follow our #UAPoweringJobs campaign via Twitter, LinkedIn and the UA website, to find out more about how our member institutions are Powering the UK's Future workforce.