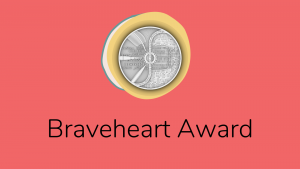 This award relates to our UA principles 'Open and Honest'.
This award is for the individual that has demonstrated conviction and integrity in their actions and decisions. The last year has placed exceptional demands and pressures on our Alliance teams, but it is the tenacity, integrity and honesty of those nominated for the Braveheart Award that has kept our institutions true to their historic roots during a challenging time.
---
University of Greenwich Vice Chancellor Professor Jane Harrington, for her compassionate leadership and inspiring engagement with the university community
• Being a VC is challenging even at the best of times but starting a new role as a first time VC and then managing a large university through a global pandemic only 5 months into the job is a real test of leadership.
• Jane faced covid related challenges across multiple fronts: health and safety concerns, student concerns in relation to online learning, local community fears around students as super spreaders, to name but a few.
• Jane's decisions to refund university accommodation fees, direct student funding to those in need, commissioning a welfare check ins for every student, providing training for staff to deliver their programmes completely online and providing extensive mental health support to students and staff. and diverting approx. Jane invested approximately £3million in funding to our covid response.
• This was communicated to stakeholders via multiple platforms including video, Instagram, twitter and video conferencing, with a spirit of transparency and humanity that meant a great deal to all involved.
• Achievements: 80% of students said they thought uni comms was good
• During a time of crisis, Jane also has invested in proactive work to improve racial equality and EDI at the university. She employed 2 EDI Advisers for race, set up and started chairing our Stonewall Award group, signed up to Justine Greening's social mobility pledge, provided financial support to EDI staff networks, and became the executive chair of the London Higher's EDI network.
• She also conducted extensive engagement with over 1100 staff, students and partners to produce the University of Greenwich Strategy 2030, demonstrating vision and motivating others to see a way forward during exceptional times.
---
WINNER: Dr Louise Taylor Bunce- Oxford Brookes University Principal Lecturer Student Experience, for her work developing Anti-racist practice.
Louise has consistently taken responsibility for doing the right thing by having open and honest conversations to support equality of educational outcomes for students experiencing racial discrimination. Louise collaborates with her social work students who endure racism to research, enact, and disseminate innovative anti-racist pedagogies and practices. For example, they developed discussion groups to promote solidarity among these students and to empower them to voice their experiences to create change. One student said: "Thank you for thinking enough about us and hearing our voices". Louise has gone above and beyond by sharing publically her personal journey towards anti-racist practice and championing the importance of white allies. Audiences say that Louise's work is "coming from the heart" and "so honest". Her resources (www.brookes.ac.uk/SIIP) for developing anti-racist practice have been commended by educators for providing "very practical suggestions" at a critical time for fighting racism in British higher education institutions.
This is a blog post authored by Louise and published by AdvanceHE in which she describes the ways she is developing anti-racist practice https://www.advance-he.ac.uk/news-and-views/how-can-we-become-anti-racist-guide
Louise collaborated with the NUS/UUK by contributing to a round-table discussion and case-study of best practice published in their 2019 report Black, Asian and minority ethnic student attainment at UK universities: #ClosingtheGap.
Here is a link to the research that Louise led to understand the experiences of students who experience racial discrimination in higher education
---
Birmingham City University lecturer in fashion business and promotion Sophie Johnson, for her energy, inclusiveness and positivity in the face of adversity, and her passion taking the work of the department to communities outside the university
Sophie's energy, positivity and enthusiasm is simply contagious as longstanding valued member of the BA Fashion, Business and Promotions team. Sophie forms half of the popular 2021 'Fashademix' podcast with co-lecturer Laura Arrowsmith and the broadcast is hosted by Brum Radio. Their aim has been to "take the conversations we have in lecture theatres and widen our audience to outside the University". The podcast has been highly successful and both have contributed to other media outlets, including ITV news, I Newspaper, Birmingham Mail, Drapers, Retail Gazette and local and national radio stations. In March 2021 Sophie's partner was diagnosed with hodgkins lymphoma (blood cancer). Sophie's response was to start training for a 10K run and raise £2845 for Lymphoma action from donations by colleagues and friends.
Her energy, inclusiveness and positivity are examples to all her colleagues and students and she simply meets the criteria of a 'braveheart'.
https://www.gofundme.com/f/sophie-10k-for-lymphoma-action?utm_campaign=p_cp+share-sheet&utm_medium=copy_link_all&utm_source=customer
Our Fashademix podcast is here!!!!!!! Listen on Spotify, amazon Google podcasts or wherever!!!
Episode 1 and 2 has landed. Please click play, share and subscribe to follow the whole shebang and enjoy!!
Spotify: https://open.spotify.com/show/5pmLJ00DpNBrNE9nEncRrk?si=-CQ90UEZQbyx_1GuLGG9sQ&utm_source=copy-link
Amazon: Check out The Fashademix Podcast on Amazon Music.
https://music.amazon.com/podcasts/3de63913-53b1-4a53-8211-fff17985d11a/THE-FASHADEMIX-PODCAST?ref=dm_sh_aY0KCDwReXTRl59OaDyLdLpmQ
Brum radio: https://brumradio.com/fashademix/