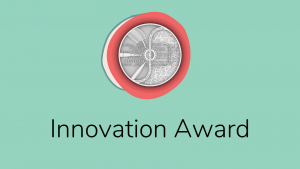 This award relates to our UA principles 'Solutions-focussed & Impactful'.
This award is for the team or individual who have come up with impactful solutions and innovations to the biggest most difficult problems or challenges. The last year has placed exceptional demands and pressures on our Alliance teams, but it is the quick-thinking, solution-driven capabilities of those nominated for The Innovation Award, that have kept Alliance institutions reaching for new heights, even during a pandemic.
Read more about our 4 shortlisted nominees below:
---
Coventry University's Students' Union Commercial Team- for finding new and innovative ways to generate income during the pandemic.
Usually Students' Unions generate commercial income through selling coffee, beer and event tickets. Covid has meant that these traditional markets have not been available and has forced the CUSU Commercial Team to use its skills to generate income in different ways. They have launched a Training Agency, a Creative Agency and an Events Agency and these ventures will return over £300,000 in surplus to the charity this year. This is an amazing achievement during the pandemic. The impact of this has been far from purely commercial. Great work experience and over £150,000 in salary has been paid to students, CUSU is now working far more closely with local communities and businesses than ever before and is an increasingly key part of the University's civic agenda. This innovative model of commercial income generation across so many different markets is unique in the SU sector.
The Team have launched:
A Training Agency that won a £250,000 contract to train volunteers for Coventry City of Culture
A Creative Agency that has made websites for the local Business Improvement District and creative assets for the West Midlands Combined Authority
An Events Agency that organises external training and the Coventry Half Marathon and setup Lateral Flow Covid testing for both the University and City Council. They also organise the largest conference for SU staff in the country
---
JOINT WINNERS: University of South Wales Research Team-who developed a rapid diagnostic test for Covid-19.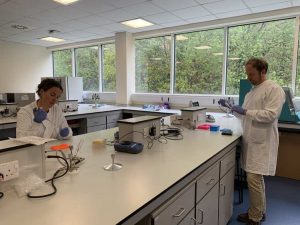 Within weeks of the start of the awareness of an on-coming pandemic the team had adapted their LAMP approach for detecting urinary tract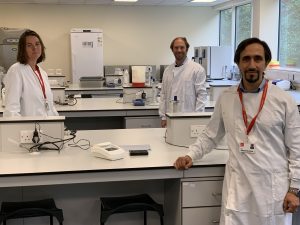 infections (UTIs) to the Covid-19 virus. By the spring of 2020 they had made successful bids to the Welsh Government for resources to determine the sensitivity and specificity of the test, together with a partnership with a local engineering design company to produce a manufacturable point-of-care LAMP device from an earlier prototype. This device has been manufactured in small numbers and demonstrated in the field as an effective test for the Covid-19 virus. Its advantage are its ease of use, speed and effectiveness and its ability to work without the need for laboratory processing. In partnership with the university the team have created a spin-out company called Llusern Scientific Ltd to commercialise the test and the device for Covid-19 and other viruses.
---
Birmingham City University's 'eXtended BCU' Research, Enterprise, and Employability Project – defining the new normal with interactive virtual representations of physical spaces, so staff, students and industry can develop hybrid learning communities and foster collaboration.
In April 2020, a small group of academics and students (eXtended BCU) started developing a solution to allow staff and students to interact and communicate in virtual 3D space, blending learning between physical and digital campus. Initially starting as a response to the COVID19 pandemic, but moving beyond this, our ongoing collaboration has grown and is redefining how academics, students, graduates, and industry can interact with each other. In the 'new normal' this allows focus on multiple layers of inclusivity. Our first phase recreated the university campus and hosted an interactive showcase of work from Games and Landscape Architecture students. This allowed users to experience work spatially, even when remote from the physical campus environment. We've continued research blurring boundaries between physical and digital learning environments, to form new hybrid learning communities. For example, we are currently developing digital tours, gamified learning experiences and innovative interactive collaborative design.
eXtended BCU Walkthrough Video: https://youtu.be/3RjGdoyNHj8 
---
JOINT WINNERS: Kingston University research team who co-produced learning events on end-of-life and bereavement care for people with learning disabilities during the pandemic
Having worked for two decades with people with learning disabilities, focusing on end-of-life and bereavement support, Professor Tuffrey-Wijne recognised the immediate need to support this vulnerable population as the Covid pandemic hit. Teaming up with the Palliative Care for People with Learning Disabilities (PCPLD) Network and her "GRASSrootsgroup of advisors with learning disabilities, Professor Tuffrey-Wijne delivered a webinar in September 2020 entitled "End-of-life care for people with learning disabilities… are we prepared?" The response was overwhelming with 1.7K registrations and 1.7K YouTube hits. It attracted an audience of families, carers and people with learning disabilities, as well as health and social care professionals. Intended as a one-off, it became a monthly co-produced webinar series, providing practical and evidence-based advice on many topics, such as supporting people dying of Covid at home and following bereavement, and vaccination prioritisation. The April 2021 webinar, on DNACPR, had 2.5K registrations and 1.5K YouTube views.
Further information:
September 2020 webinar (End-of-life care for people with learning disabilities… are we prepared?): https://www.youtube.com/watch?v=GbeAIl0Wn6I 
April 2020 webinar (DNACPR): https://www.youtube.com/watch?v=ePJKT9MZRXA&t=626s
YouTube channel with all webinars to date: https://www.youtube.com/channel/UCOQLenTftiiC_cFo0aaE-lA/videos
BBC news report (incl interviews with GRASSroots group and Prof Tuffrey-Wijne), who contacted us following our webinar on vaccination: https://www.bbc.co.uk/news/av/uk-55732177