First published in Air Quality News on 29th October 2021
Dr Jo Barnes, Senior Research Fellow at UWE Bristol explains why COP26 must address air quality as well as climate change. 
While all eyes will be on the UK's hosting of COP26 it is important that this vital international summit considers a dual focus on both the long-term measures to tackle climate change and the need to improve air quality.
The same sources of emissions that are responsible for climate change are also causing significant damage to public health and the environment.
Reducing fossil fuel combustion in industry, transport, agriculture and heating, would not only reduce CO2 emissions but also directly reduce nitrogen oxides (NOx), black carbon, polycyclic aromatic hydrocarbons (PAHs) and carbon monoxide (CO) with a resultant positive impact on human and ecosystem health and productivity.
In many areas of the world, cities are subject to emissions from all of these sources, however, in the UK, where industry and power generation have been largely relocated away from urban areas under the Clean Air Acts, the most problematic source contributors to both air pollution and to climate change are transport and home heating.
Transport 
The Government has set an ambition to stop selling new fossil-fuelled cars and vans by 2032, including plug-in hybrids.
Reducing diesel and petrol vehicles on our roads will certainly help to reduce NOx, volatile organic compounds (VOCs) and particulate matter from exhausts, but not all air pollutants are linked to fossil fuel burning!
There is too much attention on (for example) hybrid and electric cars as a solution, but even full battery electric vehicles (BEVs) still have air quality issues. For example, heavier vehicles due to batteries lead to greater brake and tyre wear and road abrasion creating more resuspended fine particulate matter, which will still affect the health of those living near busy roads.
Hydrogen fuel cell vehicles may also have zero tailpipe emissions, but the energy required to produce the hydrogen fuel may be fossil-fuel derived. If we simply replace fossil-fuel-powered vehicles with zero-emission vehicles we will still have congestion.
So rather than focusing on technologies to solve the problem, we should also be aiming to reduce road traffic by improving public transport options and making sure that those that are able to walk, cycle and scoot are given the safe space and facilities to enable that choice, not only for carbon-reduction and air quality but for the additional health benefits of active travel.
Home heating
On home heating: most urban areas still have gas central heating and, despite commitments to phase out sales of gas boilers by 2033, there doesn't seem to be any mass movement on how we will replace that.
There is talk about heat pumps and Passivhaus, but there is nothing mainstream yet, and it will be a major challenge to convert or retrofit existing stock. Whilst super-insulated homes may be great for improving energy efficiency, we need to make sure that we don't inadvertently worsen indoor air quality by reducing ventilation as emissions from cooking and cleaning, for example, don't have anywhere to escape.
Renewable energy systems are a good alternative for reducing CO2 emissions, but district heating biomass boilers, whilst incentivised by the government's Renewable Heat Incentives scheme, can have significant localised impacts on particulate matter concentrations close to where people are living – and if those biomass pellets are sourced overseas then the CO2 savings are effectively eliminated!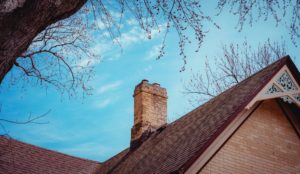 Similarly, household wood-burning stoves are also an issue – presented as a positive for climate change, but actually, the single biggest cause of PM2.5 in the UK, even though less than 10% of the population use them, and mostly as a secondary heat source. Even the latest eco-design stoves burning dry wood produce significantly more particulate matter than an HGV, worsening both outdoor and indoor air quality.
Switching to hydrogen-fuelled heating systems, if and when these become available, may also not necessarily be pollution-free, with NOx emissions potentially as high as current gas-fired boilers.
Agriculture 
Agriculture is another area where reducing emissions could have potential co-benefits for climate change and air pollution. The UK is currently forecast to breach emission ceiling thresholds for PM2.5 and ammonia (NH3) for 2020 and 2030.
Adopting low-carbon farming practices, e.g. reducing animal stock numbers and fertiliser use, and improving waste management on farms could help to achieve those targets as well as reduce particulate matter in urban areas and also nitrogen deposition to vulnerable ecosystems.
Unfortunately, the development of biogas/biomethane production from anaerobic digestion of food waste, sewage sludge and animal manures to displace natural gas use, is likely to increase NH3.
Overhauling how we travel and heat our homes is going to require significant buy-in from the public and industry, and support for them to be able to achieve this mass change. As the Sixth Carbon Budget states, 'Government should lead that response and will have most success where its proposals are seen to be fair and where people have been involved in developing the proposed solutions.'
It will not be sufficient to raise awareness and leave the rest to market forces (although a public awareness campaign on air pollution is arguably long overdue). The public must not only be informed but must also be facilitated and enabled to make changes to ensure existing inequalities are not reinforced.
To do that, we need to better understand how people live and the challenges that they may face, so policymakers can co-develop solutions that work for all and help us to navigate a just transition to a low-carbon, clean air future.