Written by University Alliance CEO Vanessa Wilson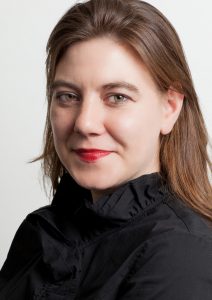 Well…it's been quite a year. The challenges we have faced as a sector, as a country, and indeed globally, are well trodden territory. It's easy to think back on the past couple of years as a constant state of crisis. However, as I reflect on the distance travelled since January, what stands out to me is just how much has been achieved despite the challenges. Below are a few edited highlights (and a couple of sad moments) from the year at University Alliance.
Winter:
We began this year as it looks like we are set to begin the next: by responding to a deluge of policy proposals announced by the Department for Education. We had the Office for Students Quality and Standards consultation, the Review of post-16 qualifications and consultations on summer 2021 grades. There was also the interim Augar response and the Skills for Jobs white paper. Not a slow start to the year.
With the country in lockdown, we were locked in intense Ministerial HE Taskforce discussions on the return to campus and making the case for students on practical courses to get back to in-person learning.
Spring:
Spring brought with it the launch of two big campaigns for us at UA. Our Powering the UK's Future campaign was a fantastic opportunity to celebrate the heritage, expertise and industry links of our members, and to set out how Alliance Universities can be involved in delivering the government's commitments. That campaign will wrap up at the end of this week and has engaged 1.4 million individuals. Our Media Voices campaign, which is ongoing, aims to widen and diversify the range of academics that are profiled through the media.
In other campaign news, we joined the campaign to protect creative arts courses from government cuts to the teaching grant.
Meanwhile, we wrote to the Prime Minister calling for all students to be able to return to campus. By May, our members were supporting the national vaccination effort by opening vaccine centers across their campuses.
In March, we were delighted to see consortia made up of Alliance and Doctoral Training Alliance (DTA) members win three of thirteen successful bids to the QAA Collaborative Enhancement Fund.
Summer:
We were thrilled to be able to celebrate the work of our members through the UA Awards 2021, which were held online this year. It was an honour to hear the incredible stories of the winners and nominees, and was a real highlight from the year. We celebrated our Doctoral Training Alliance community too: running our first cross-programme Summer School to showcase the breadth of interdisciplinary research being undertaken across the partnership.
We also engaged with government on a number of important issues for our members. This included helping to co-ordinate a cross sector showcasing session with DfE officials on the role of universities in running Multi-Academy Trusts. We didn't pull punches in our response to the ITT market review, and subsequently campaigned for the government to halt its implementation. This is an issue we continue to engage on.
In much sadder news, we lost a dear and well-respected colleague this Summer: Professor Jane Turner, Pro-Vice Chancellor at Teesside University, who made such a huge contribution to University Alliance. We also said thanks and goodbye to Professor Julie Lydon, Vice-Chancellor at the University of South Wales.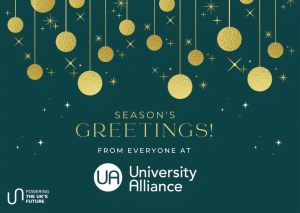 Autumn/winter again:
Autumn was a season of 'hellos'. Dr. Ben Calvert began his tenure as Vice-Chancellor at USW. We also welcomed three new members of staff: Katharine D'Souza, Research and Data Analyst, Asma Shahzad, Programme Administrator and Annie Bell, Head of Communications and External Affairs. I was delighted to attend the Universities UK Conference and say  in-person hellos to our member Vice-Chancellors for the first time since March 2020. We have also said a very exciting hello to new member faces. More on that soon!
At the DTA we welcomed two new National Co-Directors, Professors Elena Gaura from Coventry University and Paul Crawshaw from Teesside University. We were excited to launch a new DTA Future Societies programme as well, welcoming 26 new doctoral researchers and around 40 new supervisors to the DTA network.
We had campaign successes, with our Powering Action on Climate Change campaign launched to coincide with COP26. The campaign has delivered a sweep of media coverage for our member's work on climate change. We collaborated with Creative UK to publish a letter in The Telegraph calling for the protection of creative arts in higher education. The 10,000 Black Interns Programme, of which UA is founding HE partner, saw application targets from talented black students smashed for the 2022 intern programme.
We also hosted a number of enlightening engagements with government. These included a session between Chancellor of The Exchequer's Special Adviser, Mike Webb, and UA VCs ahead of the Comprehensive Spending Review, as well as roundtables with Lord Wharton, new Chair of the OfS and with senior officials within DfE.
Finally, just this week, we celebrated as our members secured over £18m of capital funding from the OfS. This impressive figure is testament to the excellence and innovation of our members in delivering cutting-edge technical education. A fitting end to the year.
What's next:
In the new year we'll be announcing new members. We'll also be developing a new strategy, so watch this space!
Have a fantastic break and a happy new year.
Check out our festive look-back video for 2021 below: