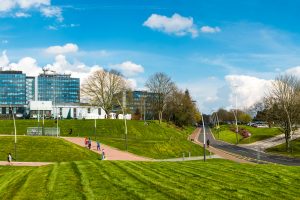 University Alliance (UA) has today (13 January 2022) announced that the University of Derby has officially joined the mission group as its fourteenth member.
University Alliance represents universities who are leaders in technical and professional education across the UK. Alliance universities are known for their close links with industry, professions and employers, and for their delivery of public sector workforce skills and training.
Professor Debra Humphris, Chair of University Alliance and Vice-Chancellor of the University of Brighton, said:
"We are thrilled to welcome the University of Derby to the Alliance. It brings with it a high level of expertise in applied research, innovative practical teaching and links with local industry and will be a valuable addition to the Alliance.
"This is an exciting time for University Alliance as we welcome a growing number of members. As the Alliance grows, so too does our ability to collectively advocate for professional and technical universities.
Alliance universities like the University of Derby are at the hearts of their communities: educating the local workforce, supporting local industry and innovation and acting as pillars of their local economies. Together, we will continue to go from strength to strength and will support our regions to thrive in doing so."
Vanessa Wilson, University Alliance CEO, said:
"We are delighted to announce that the University of Derby has joined University Alliance. The University of Derby's focus on industry links, industry-relevant and innovative teaching makes it a natural fit for the Alliance.
"This is a challenging time for the nation and for the higher education sector, but University Alliance is committed to bringing Alliance universities together to meet these challenges and to support the nation's Covid recovery. Together, we can ensure the continued success of our institutions and play a collective role in the economic, social and cultural development of our communities and the UK. We believe that Alliance universities will be central to delivering levelling up across the UK and we will work together to support government in delivering their ambitions."
Professor Kathryn Mitchell CBE DL, Vice-Chancellor and Chief Executive of the University of Derby, said:

"At Derby our focus is firmly on delivering excellence and opportunities for our students, staff and region – raising aspirations, supporting the long-term prosperity of our city and county through skills development, and having a broader civic impact within our communities.
"Many of our strategic ambitions align with those of University Alliance, and as a member we have an opportunity to collaborate with like-minded institutions and become part of a strong collective voice working to positively influence government and key decision-makers.
"We are delighted to have joined and look forward to working with fellow University Alliance members to help drive forward positive change regionally and nationally."