The Alliance Awards are returning this year, for their third year running. The Awards were founded to recognise excellence in higher education and research across the UK's leading professional and technical universities. They are University Alliance's chance to celebrate the hard work and dedication of colleagues and teams across the Alliance, following what has been an extraordinarily challenging period.
This year, along with the original six, there is a new seventh award named for the Queen's platinum Jubilee; all of the Alliance Awards signify University Alliance's principles of working. Each one recognises those at member universities who have demonstrated the behaviours and values that the collective of Alliance universities believe are important.
The Alliance Awards ceremony, held at the end of the academic year, is the perfect opportunity for colleagues from across UA's networks and members to come together and celebrate the hard work and achievements of our group.
The year's Alliance Awards will be held in person, at Kingston University's RIBA Sterling award winning Townhouse building, on 7th June 2022. Individuals and teams across the University Alliance membership can nominate themselves or each other to be considered for any of the following categories. Nominations are now open!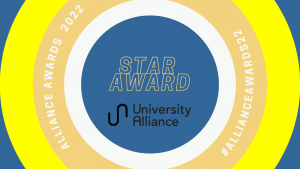 Star Award

Professionals Award

Alliance Award

Innovation award

Braveheart award

DTA Alumni Award

Jubilee Award
The nomination window is open from now until Wednesday 6th April. Nominations can be submitted via this survey monkey link. 
For more information about the Alliance Awards 2022, see our webpage.