Some of the brightest minds from around the world come to the UK to study.
Alliance Universities are proudly international. We firmly believe our international students make a vital contribution to the collective strength of the UK's universities and its economy, helping to cement the UK's position on the world's stage.
Therefore, it has been hugely concerning to hear recent reports that the Home Secretary is considering imposing restrictions on those from abroad who wish to study here.
Unwelcoming language and policies do nothing to grow the UK economy, research impact, or our cultural diversity.
These are individuals with real lives, with immeasurable talent to offer to our country – we should always welcome them with open arms.
In our latest series of blogs, we are profiling the international students who enrich our Alliance Universities with their talent and generosity.
—
Student's community exercise programme and research tackles older peoples' loneliness – Nick Bender, USA
Middlesex University MSc Sport, Physical Activity and Exercise for Special Populations graduate Nick Bender, is a former US Marine, who set up a community interest company for an older people's wellness and group exercise programme. Nick runs the group, which is also the subject of his academic research into reducing loneliness and depression.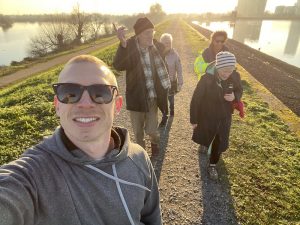 When he arrived at Middlesex University in 2018 Nick, discovered Walk and Talk For Your Life, a programme of exercise as medicine for older adults started at the University of British Columbia four years previously.
His interest was piqued by research showing that group exercise on its own didn't reduce loneliness, and he wanted to find a particular approach which did this. He launched a London version in Waltham Forest.
Walk and Talk For Your Life's formula involves a mixture of informal socialising, exercise such as a group walk, balance, and strengthening routines, and formal socialising in the form of discussion around a health topic.
Under lockdown the group walk changed to a shadow boxing session. The exercise offers the context for the even more important interpersonal bonding. During the pandemic, Nick increased his sessions to eight per week to cope with growing interest for activities and socialising opportunities for older adults. He has conducted two studies to date into the programme in both in-person and online versions: these found it cut loneliness by over 20% and depression by over 30%, among those already suffering from these conditions.
The necessary ingredient, Nick says, is not just bringing people together with others in a group but about facilitating "deeper connections and feeling more connected". It also requires candour and trust from participants: "social connection is built when people are allowed to feel vulnerable with others to share how they really feel," he explained.
Nick has received grants from Waltham Forest Council, Big Local and UnLtd (UnLtd also providing human resources support). He says the next step might be incrementally growing Walk and Talk For Your Life as a business or pitching the service for commissioning by a local authority. His dream is for his business to become a national provider of social prescribing – a concept in which GPs prescribe patients to attend social community groups in order to improve their health and wellbeing.
For more details on the Walk and Talk Study, see here.
#WeAreInternational